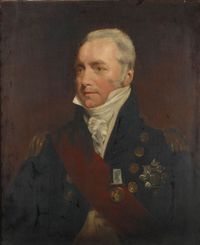 Source: Courtesy of Wikimedia Commons
KEATS, Sir RICHARD GOODWIN, naval officer and governor of Newfoundland; b. 16 Jan. 1757 in Chalton, Hampshire, England, son of Richard Keats, an Anglican clergyman, and his wife Elizabeth; m. 1820 Mary Hurt of Alderwasley, England; d. 5 April 1834 and was buried at Greenwich Hospital (London).
Richard Goodwin Keats joined the Royal Navy in 1770, and in 1776 served on the Romney, Governor John Montagu's flagship at Newfoundland. He was promoted lieutenant in 1777 and given his first command in 1789. Keats was a conspicuous figure in the naval history of England for the next two decades. Nelson described him as "a treasure to the service." In 1807 he was promoted rear-admiral, and in 1808, following a brilliant series of actions in Danish waters, he was made a knight of the Order of the Bath. He was promoted vice-admiral in 1811, but the following year, his health damaged, he resigned his command and returned to England. On 18 March 1813, he was appointed governor and commander-in-chief of the island of Newfoundland "and the Islands adjacent including the Islands of St. Pierre and Miquelon and all the Coast of Labrador from the River Saint John to Hudson's Streights the Island of Anticosti and all other adjacent Islands the Islands of Madelaine excepted." He was sworn in at St John's on 1 June.
Keats would govern as a summer and autumn visitor for three years. This was the traditional pattern of gubernatorial rule in Newfoundland; but local problems were becoming too complex, the population – by now at least 70,000 – was increasing too rapidly, for the island to be administered as if it were merely a seasonal fishery. "If Newfoundland be not a Colony by Law, it is so in fact," Keats was assured by high sheriff John Bland. The instructions given to Keats reflected a belated British recognition of the need for a new policy in at least one area: agriculture. He was authorized "to grant Leases of small Portions of Land to industrious Individuals for the purpose of Cultivation," taking care to charge an annual rent, either nominal or real, depending on the circumstances of the lessee. When he proceeded to act on this instruction, Keats found that most of the land suitable for farming had already been taken up by encroachments. "I have found but little Land within the neighbourhood of St. John's to dispose of," he told the colonial secretary. None the less, by the fall of 1813 he had granted 110 leases, on pieces of property up to four acres in size, all in the vicinity of St John's. (In the outports, removed from government, inhabitants had already enclosed the land they needed.) Keats recommended that all unauthorized landholders around St John's be permitted to rent their land on. the same basis as the new leaseholders, and the Colonial Office, unwilling "to adopt any harsh measures," agreed.
This initiative did not end controversy over land tenure in Newfoundland, for the right to own property was still not recognized, and enclosures or buildings for uses other than fishing required the governor's permission. In August 1814 Irishman James Sweeney (who, according to Bland, had "hardly five words of English, and is perfectly unintelligible") had his house and other buildings on Bell Island, Conception Bay, razed to the ground by deputy sheriff John Mayne, when it was discovered that he had enclosed ground of "about forty or fifty acres" for farming despite a warning to confine himself to a smaller area. Mayne was following orders issued by Keats and surrogate David Buchan*. Similarly, Owen Kelly, who had cleared a ten- or twelve-acre farm on the same island, had his house demolished. These are arresting episodes, indicating that the grievances alluded to by reformers such as William Carson* were by no means imaginary. The legality of the governor's control over property was now also being questioned by the crown lawyers, who stated in 1814 that "Newfoundland being a settled Colony, the common law rights of English subjects apply . . . there, except in so far, as they have been altered or abridged by any peculiar laws or regulations applicable to Newfoundland." To Keats's credit, by the end of his term he recommended that restraints on building ("a perpetual theme of inquietude at St. John's") be lifted within certain boundaries in the capital, and expressed doubt about the right of preventing building even on encroached land that was "clear of the Fisheries." He was also more inclined than his fussy predecessor, Sir John Thomas Duckworth*, to allow individuals to build houses. Yet he ultimately advised against any fundamental change in the system of governing Newfoundland.
Keats complained about the difficulty of governing Newfoundland, and especially about "the clamour of a Party for Colonization," but in fact he presided over the community at the end of a period of unprecedented prosperity. Many of the problems he encountered, or fancied, were produced by this buoyant economy. There was, for instance, great demand for land, and Keats was bothered by visitors to St John's from the outharbours pressing their claims to fishing rooms or disputing those of their neighbours. Thousands of Irishmen, attracted by high wages in the fishery, were streaming in, adding to the already volatile Hibernian component in the population. As the outports grew, it became apparent that more Anglican missionaries were needed. The "Dissenters and Catholics have benefited by our Indifference," Keats warned, having noted that the Catholic bishop, Patrick Lambert*, had "numerous priests" who were "too successful in making Proselytes." Reflected in Keats's correspondence are the signs of a bustling community: churches being built and missionaries requested, an application being made for the establishment of a second newspaper in St John's (which he tried unsuccessfully to prevent), tradesmen abandoning their "mechanical avocations" to take to the boats in the hopeful summer of 1814, the general hospital opening its doors, hundreds of ships moving in and out of port, and ideas percolating about the great timber resources on the Gander and Exploits rivers.
As the merchants well knew, this prosperity was due, in large part, to the exclusion of two traditional competitors, the French and, following the outbreak of the War of 1812, the Americans, from the Newfoundland fishery. In 1813 Keats supported a petition by the merchants requesting that neither the French nor the Americans be restored to their fishing rights on the return of peace, and the next year he wrote an elaborate plea of his own to keep the Americans out. These representations were not effective, and soon after the treaties with France in 1814 and 1815, and that with the United States in 1814, the Newfoundland fishery was once more international in character. Late in 1814 there were indications that the boom was coming to an end. In the spring of 1815 the wages offered were considerably lower than in the previous year; possibly as a consequence, there was unrest among the Irish in St John's that did not subside until May. By late 1815 the economy had worsened, and with nervous creditors demanding payment of debts there were 40 insolvencies between October and mid December. According to Keats, writing in November on his return from his last summer in Newfoundland, the arrival of 6,000 Irish immigrants in the summer of 1815 had "created some alarm in the minds of the peaceable Inhabitants" and might be "productive of some distress and additional expence to the district. "Another grim sign of what lay ahead was a fire in St John's on 12 Feb. 1816, in which 120 houses were destroyed and many more damaged. As his successors Francis Pickmore* and Sir Charles Hamilton* would discover, Newfoundland had started on a slide into a serious post-war depression. Keats's term ended on 18 May 1816. He later became governor of the Greenwich Hospital for seamen, and was made an admiral in 1825.
The Bell Island episodes may show a vein of petty tyranny in Keats, but on the whole he was a moderate and conciliatory man who recognized that changes were taking place in Newfoundland society which needed attention.
PANL, GN 2/1/A, 24–27. PRO, CO 194/54–57; CO 195/16–17. Royal Gazette and Newfoundland Advertiser, 1810–18. DNB. James Ralfe, The naval biography of Great Britain . . . (4v., London, 1828), 2: 487–516. Prowse, Hist. of Nfld. (1895).
© 1987–2023 University of Toronto/Université Laval
Cite This Article
Patrick O'Flaherty, "KEATS, Sir RICHARD GOODWIN," in Dictionary of Canadian Biography, vol. 6, University of Toronto/Université Laval, 2003–, accessed June 8, 2023, http://www.biographi.ca/en/bio/keats_richard_goodwin_6E.html.
The citation above shows the format for footnotes and endnotes according to the Chicago manual of style (16th edition). Information to be used in other citation formats:
| | |
| --- | --- |
| Permalink: | http://www.biographi.ca/en/bio/keats_richard_goodwin_6E.html |
| Author of Article: | Patrick O'Flaherty |
| Title of Article: | KEATS, Sir RICHARD GOODWIN |
| Publication Name: | Dictionary of Canadian Biography, vol. 6 |
| Publisher: | University of Toronto/Université Laval |
| Year of publication: | 1987 |
| Year of revision: | 1987 |
| Access Date: | June 8, 2023 |