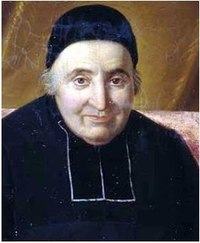 Source: Courtesy of Wikimedia Commons
DESJARDINS, PHILIPPE-JEAN-LOUIS, Roman Catholic priest and vicar general; b. 6 June 1753 in Messas, France, son of Jacques Desjardins de Lapérière, a merchant, and Marie-Anne Baudet; d. 21 Oct. 1833 in Paris.
Philippe-Jean-Louis Desjardins did his classical studies at the Petit Séminaire de Meung-sur-Loire and quickly displayed remarkable intellectual ability. After receiving the tonsure at Orléans in 1772 he passed the entrance examinations to the Séminaire de Saint-Sulpice in Paris. For the next five years he devoted himself to study and devotional exercises. Having obtained his baccalauréat in philosophy in 1777, he finished his theology at the Séminaire Saint-Irénée in Lyons, where he was ordained priest on 20 December. He immediately became a canon at Bayeux. Four years later he was back in Paris to pursue studies for the licentiate and the doctorate, which he completed in 1783. Desjardins was already dedicating part of his income to the education in Paris of his younger brother Louis-Joseph Desjardins*, dit Desplantes. In 1788 Philippe-Jean-Louis was named dean of the chapter of Meung-sur-Loire and vicar general of Orléans. Then came the revolution and with it the Civil Constitution of the Clergy, which did away with ecclesiastical titles and benefices. Desjardins first withdrew to his parents' home in Messas and then went to Bayeux with Louis-Joseph, who had become a priest. At the time of the upheaval of August 1792 the Desjardins brothers did not want to get their hosts into trouble and decided to emigrate. In London Philippe-Jean-Louis met Jean-François de La Marche, the bishop of Saint-Polde-Léon, who happened to be engaged in recruiting priests for the Canadas.
The Canadian church had not been able to call upon French clergy since the conquest. With the arrival in England of some 8,000 priests fleeing the revolution, the situation changed and the door to the Canadas was opened [see Jean-François Hubert*]. Bishop de La Marche named Desjardins head of a mission to study the conditions for settling French priests, and possibly even émigrés generally, in Upper and Lower Canada. On 2 March 1793 Desjardins reached Quebec, via New York, with François-Josué de La Come, Abbé Pierre Gazel, and Abbé Jean-André Raimbault. In order to prepare the way for some hundreds of his compatriots who were to go to Upper Canada, he got in touch with Lieutenant Governor John Graves Simcoe*, whom he met in July; this plan, however, met with little success.
More than 50 priests came to settle in Lower Canada, swelling the ranks of the Canadian clergy by a third. They ministered as curates or parish priests in 50 parishes, founded or taught in three classical colleges, and served as chaplains in the women's communities as well as in the missions in the east and west of Quebec diocese. The émigré priests, who were endowed with a superior education and exceptional intellectual and moral qualities, constituted for 60 years one of the most important pillars of French culture among the Canadians. These "confessors of the faith," as they were then known, more or less re-established the Canadian Catholic church, and it was revolutionary France that gave it this second wind!
Bishop Hubert sensibly kept Desjardins with him as an adviser; in September 1794 he appointed him vicar general, as well as chaplain to the nuns of the Hôtel-Dieu in Quebec and later to the Ursulines. Desjardins lived at the Séminaire de Québec and from time to time taught theology at the Grand Séminaire. Responsibility for the congreganists of Notre-Dame parish was entrusted to him. He was often invited to preach retreats and sermons. The bishop of Quebec took him along on his pastoral visit to Acadia in 1795. His broad culture, his ease in conversation, and the warmth of his greeting made him well liked. Everyone wanted to have him to dinner, and high society sought him out. As he wrote to a friend who had remained in England, "All the eminent people anticipate our desires, render us homage, treat us as public figures." He was entertained at dinner by Prince Edward* Augustus, the old Canadian nobility of Rue des Remparts, and the good merchant families of Rue Buade and Rue de la Fabrique. With the Treaty of Amiens in 1802 he had to resign himself to returning to France, apparently because of serious health problems. Sir Robert Shore Milnes*, who feared the French like the plague, never forgave him for leaving and did not want to admit any more French priests. In all other quarters this man of rare distinction in manners and intellect left nothing but regrets behind him.
On returning to France Desjardins went to serve as parish priest at Meung-sur-Loire, and then as vicar general of Orléans; he soon came back to Paris as secretary to the papal legation, taking up residence at the Séminaire des Missions Étrangères. His smiling diplomacy enabled him to maintain harmony in his entourage, yet at the same time he had difficulty in refusing requests. Consequently in 1810 lie wrote to Edward Augustus on behalf of an adventurer, and Napoleon's police intercepted the letter. Desjardins was arrested, tried, sentenced, and imprisoned, finally being put under house arrest in Italy, an exile that lasted nearly five years.
The restoration of the Bourbon monarchy brought Desjardins back to Paris and to various ministries and functions there. Until 1819 he was the priest in charge of the parish of the Missions Étrangères and at the same time he worked on the plan for a concordat with Rome. Then he busied himself with the Maison Saint-Michel, which had been founded for former women prisoners convicted under ordinary law who wanted to enter a religious order. The Comte de Frayssinous made him superior in the Paris convent of the Société du Sacré-Coeur de Jésus. Archdeacon of Sainte-Geneviève, and vicar general of Paris from 1819, Desjardins accompanied Bishop Hyacinthe-Louis de Quélen to Rome in 1825, advising him in his administrative and pastoral tasks. As a monarchist he was a friend of Abbé Charles-Dominique Nicolle, another vicar general. Having been spiritual director of the Ursulines of Quebec, he played the same role with the Duchesse de Berry after the duke's assassination, without neglecting his other duties to the two women's communities that he directed.
In spite of all his preoccupations Desjardins did not forget his family or his Canadian friends, as his correspondence with Bishop Joseph-Octave Plessis, his brother Louis-Joseph, Jean Raimbault*, Antoine-Bernardin Robert, and the Ursulines of Quebec abundantly demonstrates. He warmly welcomed Canadian bishops, priests, doctors, and merchants who came to Paris, and he endeavoured to lend them his assistance. For example, on several occasions he sent back books, engravings, and even minerals for Jérôme Demers*'s physics laboratory. He remained extremely grateful to those who had welcomed him and his émigré compatriots so generously. The better to prove it, he bought a collection of pictures, which has borne his name ever since, from a ruined Parisian banker who had himself purchased them from the state. These paintings by masters came from churches in Paris that had been pillaged during the revolution. Wishing to furnish the objets d'art so noticeably absent in Canadian churches, Desjardins sent out nearly 200 paintings, which arrived at Quebec in 1817.
The 1830 revolution forced Desjardins to go into hiding in the Maison Saint-Michel, and he lost a good many of his personal possessions when the archbishop's palace was sacked in 1831. That year he had a seizure that paralysed him permanently and on 21 Oct. 1833 he died of a stroke. A service was held at the Maison Saint-Michel, and a second one was celebrated at Notre-Dame, in the presence of the chargé d'affaires of the Holy See, a large number of bishops, and priests from parishes in the capital.
AAQ, 1 CB, VI: 131–71. AD, Loiret (Orléans), État civil, Messas, 9 juin 1753; Paris, État civil, Paris, 21 oct. 1833. Arch. du monastère des ursulines (Québec), Corr., 1815–33. Arch. du séminaire de Nicolet (Nicolet, Qué.), AO, Polygraphie, II: 64, 80; III: 21, 36; Séminaire, III, nos.40, 43, 54, 56; IV, no.25. ASQ, Lettres, T, 56, 56c. PAC, MG 11, [CO 42] Q, 93: 45; MG 23, GIV, 7. La Minerve, 13 févr. 1834. Allaire, Dictionnaire, 1: 164–65. [Catherine Burke, dite de Saint-Thomas], Les ursulines de Québec, depuis leur établissement jusqu'à nos jours (4v., Québec, 1863–66), 4. Dionne, Les ecclésiastiques et les royalistes français. Galarneau, La France devant l'opinion canadienne (1760–1815). Lambert, "Joseph-Octave Plessis." Jacqueline Lefebvre, L'abbé Philippe Desjardins, un grand ami du Canada, 1753–1833 (Québec, 1982). Jean Leflon, Monsieur Emery (2v., Paris, 1945–46). Gérard Morisset, La peinture traditionnelle au Canada français (Ottawa, 1960). J.-B.-A. Ferland, "L'abbé Philippe-Jean-Louis Desjardins," BRH, 5 (1899): 344–46. M. G. Hutt, "Abbé P.-J.-L. Desjardins and the scheme for the settlement of French priests in Canada, 1792–1802," CHR, 39 (1958): 93–124. "Les tableaux de M. l'abbé Desjardins," BRH, 6 (1900): 56–57.
© 1987–2023 University of Toronto/Université Laval
Image Gallery

Cite This Article
Claude Galarneau, "DESJARDINS, PHILIPPE-JEAN-LOUIS," in Dictionary of Canadian Biography, vol. 6, University of Toronto/Université Laval, 2003–, accessed November 29, 2023, http://www.biographi.ca/en/bio/desjardins_philippe_jean_louis_6E.html.
The citation above shows the format for footnotes and endnotes according to the Chicago manual of style (16th edition). Information to be used in other citation formats:
| | |
| --- | --- |
| Permalink: | http://www.biographi.ca/en/bio/desjardins_philippe_jean_louis_6E.html |
| Author of Article: | Claude Galarneau |
| Title of Article: | DESJARDINS, PHILIPPE-JEAN-LOUIS |
| Publication Name: | Dictionary of Canadian Biography, vol. 6 |
| Publisher: | University of Toronto/Université Laval |
| Year of publication: | 1987 |
| Year of revision: | 1987 |
| Access Date: | November 29, 2023 |