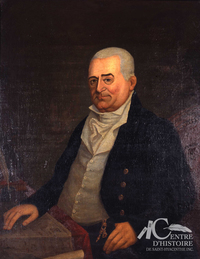 Source: Link
DESSAULLES, JEAN, seigneurial agent, militia officer, seigneur, and politician; b. 1766 in Saint-François-du-Lac, Que., son of Jean-Pierre De Saulles and Marguerite Crevier Décheneaux; d. 20 June 1835 in Saint-Hyacinthe, Lower Canada.
Having "made up his mind to go to foreign lands," Jean Dessaulles's father obtained from the community of Fenin in Switzerland on 18 Dec. 1759 a letter certifying his place of birth and good character. According to family tradition, he was then a soldier and a Huguenot. He settled in the province of Quebec at the time of the conquest and became a merchant. His son Jean studied with the Sulpicians at the Collège Saint-Raphaël in Montreal from 1779 till 1781.
Around 1780 the Dessaulles removed to the seigneury of Saint-Hyacinthe, which was being managed by Marie-Anne Crevier Décheneaux, a sister of Mme De Saulles and widow of Jacques-Hyacinthe Simon, dit Delorme. Jean seems to have regarded his aunt as a second mother, even though his parents were still living. In adulthood he worked for her, possibly in charge of the sawmill, and certainly as a seigneurial agent for the years 1796–98. Until then Mme Delorme had turned for help to the parish priest of Saint-Mathieu, at Belœil, François-Xavier Noiseux, who from 1777 till 1783 also ministered to Saint-Hyacinthe.
Dessaulles bought a piece of land in 1795 and the following year obtained the grant of a lot in the village from Mme Delorme. On 7 Jan. 1799, at the church in Saint-Hyacinthe, he married Marguerite-Anne Waddens, daughter of the late Jean-Étienne Waddens*. In little more than two years he lost three children, and then in 1801 his wife as well.
Mme Delorme also died that year. As it turned out, her son Hyacinthe-Marie Delorme retained five-eighths of the seigneury, and three-eighths went to Pierre-Dominique Debartzch*, a grandson of Jacques-Hyacinthe Simon, dit Delorme, by a previous marriage. Dessaulles continued to act as seigneurial agent for his cousin Delorme, who was elected to the assembly for Richelieu in 1808. At the beginning of the War of 1812 Dessaulles was serving as major in the Saint-Hyacinthe battalion of militia, and on 26 March 1813 he took command of it, replacing Lieutenant-Colonel Delorme, who was ill. Having a premonition of death, Delorme, who was unmarried, settled his estate in 1814, excluding Debartzch and making Dessaulles the sole legatee and heir to all his rights and claims on the seigneury. Thus, just before he turned 50, Dessaulles came into possession of a large manor-house and numerous seigneurial rights. The sale at auction of his own goods and chattels demonstrated the transition to a new station.
Dessaulles was an active seigneur. He bought, sold, and granted lands. Notarial records show, for example, 200 land grants for the years 1826 and 1827 alone. He busied himself with building a road, a dam, and a sawmill. He surrendered rights on an island to allow the construction of a bridge, and on lots to be the sites of a market and a court-house. He was thoroughly familiar with the problems facing the censitaires, his relations with them were straightforward, and he was regarded as fair-minded.
On 21 Feb. 1816, in Montreal, Dessaulles had married Marie-Rosalie Papineau, daughter of notary Joseph Papineau* and sister of Louis-Joseph*. That year he was elected to the assembly for Richelieu, which had been represented by Delorme and Louis Bourdages and which was within the Papineau family's sphere of influence. From 1830 to 1832 he represented Saint-Hyacinthe riding, which had been separated from Richelieu in 1829. Dessaulles did not attract as much attention in the assembly as did his brother-in-law Louis-Joseph or Bourdages, being less well educated and less inclined to speak than they, as well as more moderate. At the manor-house the young Mme Dessaulles was the soul of family and social life and took an interest in seigneurial matters. By 1820 her brother André-Augustin was given responsibility for arrears and land grants. For decades the Papineau and Dessaulles families were closely linked.
At the end of 1831 Dessaulles was invited to sit on the Legislative Council by Governor Lord Aylmer [Whitworth-Aylmer*], who hoped to meet the assembly's criticism of the council by appointing a number of prominent Canadians. Dessaulles intended to retain his freedom to criticize the council's place in the political structure, but he considered it "better that men friendly to the House of Assembly enter the council to effect a desirable reconciliation between the two bodies than to see them constantly embroiled in fights and opposition." He received his appointment early in 1832. Five months later Papineau, who was then leader of the Patriote party in the assembly and who favoured an elective legislative council, wrote Dessaulles a letter, apparently avoiding either congratulations or disapproval, which called upon him to resign his seat in the assembly quickly and to collaborate in finding a "patriotic, energetic, and national" candidate to run for it. Dessaulles's career in the council was in fact undistinguished, as were those of the other French-speaking members, who were absent most of the time during the years 1832–35.
Dessaulles's Huguenot ancestry on his father's side, his contacts with Antoine Girouard, the parish priest of Saint-Hyacinthe who founded the local classical college, and his marriage with the pious Marie-Rosalie Papineau lend interest to the matter of his attitude to religion and the clergy's influence. Dessaulles had known Girouard at the Collège Saint-Raphaël. As seigneurial agent he had been involved in the priest's purchase of the lot on which his classical college was to be built. On becoming the seigneur he abstained from exacting the annual payments from the institution. Girouard was godfather to his eldest son, Louis-Antoine*. Parish priest and seigneur worked together when new parishes were being created. In 1829 and 1830 both were chosen as trustees to promote primary education and the establishment of schools at Saint-Hyacinthe. Whether all this was simply a matter of being good neighbours and having common interests or whether there was more to it can only be conjectured. However, it seems that the warmth in these relations with the clergy came more from the seigneur's wife than from the seigneur himself.
On 20 June 1835, after an illness that had lasted six months, Dessaulles died in the seigneurial manor-house. He was buried in the parish church. His widow lived until 1857. They had had five children, three of whom survived them: Louis-Antoine, who was well known as an influential member of the Parti Rouge and a political foe of the clergy; Rosalie, wife of Maurice Laframboise*, a politician who became a judge; and Georges-Casimir, who was a leading figure in business circles in Saint-Hyacinthe at the end of the 19th century and who became mayor and senator.
Two of Jean Dessaulles's granddaughters made their mark in Quebec letters and the feminist movements. In 1939 Caroline-Angélina*, only daughter of Louis-Antoine, published Quatre-vingts ans de souvenirs, a book recalling aspects of feminine activity at the outset of the 20th century. For some 15 years George-Casimir's daughter Henriette*, under the pseudonym Fadette, wrote an interesting literary column in Montreal's Le Devoir.
ANQ-M, CE1-51, 21 févr. 1816; CE2-5, 7 janv. 1799, 23 juin 1835. Arch. de la Soc. d'hist. régionale de Saint-Hyacinthe (Saint-Hyacinthe, Qué.), sér.2, dossier 34.7; sér.16, dossier 10. ASSH, Fg-4, A-64; B, dossier 1: 239; dossier 2: 79–80. George Allsopp, "Lettre de George Allsopp à M. Dessaulles, député," BRH, 40 (1934): 319–20. F.-J. Audet, "Les législateurs du Bas-Canada." Desjardins, Guide parl. Turcotte, Le Conseil législatif, 19, 113. Suzanne Bédard, Histoire de Rougemont (Montréal, 1978). [C.-A. Dessaulles] Mme F.-L. Béique, Quatre-vingts ans de souvenirs (Montréal, [1939]), 120–30. C.-P. Choquette, Histoire de la ville de Saint-Hyacinthe (Saint-Hyacinthe, 1930). Henriette Dessaulles, Fadette: journal d'Henriette Dessaulles, 1874/1880 (Montréal, 1971), 13–17, 285–89. Gérard Filteau, Histoire des Patriotes (3v., Montréal, 1938–39), 1: 199–201. Gérard Parizeau, Les Dessaulles, seigneurs de Saint-Hyacinthe; chronique maskoutaine du XIXe siècle (Montréal, 1976). Taft Manning, Revolt of French Canada. Louise Voyer, Saint-Hyacinthe: de la seigneurie à la ville québécoise ([Montréal], 1980).
© 1987–2023 University of Toronto/Université Laval
Image Gallery

Cite This Article
Jean-Paul Bernard, "DESSAULLES, JEAN," in Dictionary of Canadian Biography, vol. 6, University of Toronto/Université Laval, 2003–, accessed September 25, 2023, http://www.biographi.ca/en/bio/dessaulles_jean_6E.html.
The citation above shows the format for footnotes and endnotes according to the Chicago manual of style (16th edition). Information to be used in other citation formats:
| | |
| --- | --- |
| Permalink: | http://www.biographi.ca/en/bio/dessaulles_jean_6E.html |
| Author of Article: | Jean-Paul Bernard |
| Title of Article: | DESSAULLES, JEAN |
| Publication Name: | Dictionary of Canadian Biography, vol. 6 |
| Publisher: | University of Toronto/Université Laval |
| Year of publication: | 1987 |
| Year of revision: | 1987 |
| Access Date: | September 25, 2023 |