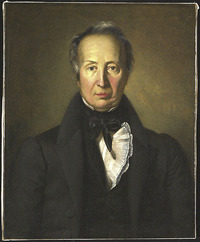 Source: Link
DIONNE, AMABLE, merchant, militia officer, politician, and seigneur; b. 30 Nov. 1781 in Kamouraska, Que., son of Alexandre Dionne, a farmer and militia captain, and Magdelaine Michaud; m. 10 June 1811 Catherine Perrault, niece and adopted daughter of the local seigneur, Jacques-Nicolas Perrault*, in Rivière-Ouelle, Lower Canada, and they had 13 children; d. 2 May 1852 in Sainte-Anne-de-la-Pocatière (La Pocatière), Lower Canada.
A descendant of a family that was among the first to settle at Kamouraska, Amable Dionne attended school there for about a year and a half. In 1802 he signed an employment contract with Pierre Casgrain*, a merchant of Rivière-Ouelle, becoming his clerk and then in 1812 his partner. A year later Dionne and his wife moved from Rivière-Ouelle to Kamouraska; there, in a house owned by his partner, he became a merchant for Casgrain et Dionne. The partnership was dissolved in 1818 by mutual agreement and Dionne set up on his own account.
Dionne's talents, and the discipline that went with his highly authoritarian character, were not the sole reasons for the financial success he achieved. His business was located at the centre of a seigneury with a rapidly growing population; around 1820 it had some 5,000 inhabitants. There had been an extraordinary jump of about 300 per cent since 1790, prompted perhaps as much by immigration as by natural increase. Moreover, according to surveyor Joseph Bouchette*, between 1815 and 1820 six schooners transported to the Quebec market substantial quantities of fish, wood, wheat, and butter of a quality renowned in the capital. The volume of trade with external markets ensured net receipts of currency that could be used for the purchase of consumer goods. This development was the source of the prosperity enjoyed by leaders in commerce, medicine, and law at Kamouraska, who in prestige and power could hold their own with the residents of the presbytery.
Dionne's political career began in 1830 when he was elected to represent Kamouraska in the House of Assembly. In 1834 he was a signatory to the 92 Resolutions drafted by Augustin-Norbert Morin*, which outlined the main grievances and demands of the assembly. He was re-elected the same year. Dionne, none the less, eventually dissociated himself from Louis-Joseph Papineau*'s position and rallied to the defence of order during the rebellion of 1837. He was appointed to the Legislative Council in August 1837 and sat there until March 1838. In April he was summoned to the Special Council, on which he remained until February 1841. Then he was again a legislative councillor from August 1842 to May 1852.
At the time Dionne entered politics he also undertook a series of transactions by which he became owner of the seigneuries of La Pocatière and Grande-Anse. He entrusted management of them to agents. During the 1830s Dionne had substantial liquid assets and landed property at his disposal, and over the years he also accumulated the symbolic capital of social esteem and respectability. His status was demonstrated, for example, by the rank he held in the militia. Appointed captain in the militia battalion of Rivière-Ouelle in 1818, he was promoted major on 10 Aug. 1830. He showed he could use the combined assets of his financial success and his prestige to set in motion matrimonial schemes befitting his status. The $8,000 dowry that each of his eight daughters received sufficiently indicates the overriding influence of the merchant in the choice of his sons-in-law. They would include a notary, Olivier-Eugène Casgrain, who owned the seigneury of L'Islet and was the son of Dionne's former partner; a lawyer, Pierre-Elzéar Taschereau, colleague of Dionne in the assembly; a Quebec printer and publisher, George-Paschal Desbarats*; Jean-Thomas Taschereau*, son of Judge Jean-Thomas Taschereau*; a merchant, Jean-Charles Chapais*; Dr Ludger Têtu and businessman Cirice Têtu, sons of a friend of Dionne. After Dionne's death his two sons, who had practised law for a few months, abandoned legal concerns and settled down on their estates.
As well as distributing various assets to his children during his lifetime, Dionne assumed certain responsibilities with regard to his relatives. A particularly painful family drama involved an adoption. In 1821 one of Mme Dionne's sisters lost her husband, and the Dionne family decided to take over the care of her son Charles-Paschal-Télesphore Chiniquy*. Chiniquy was turned out of the house four years later because he was thought to have made indecent advances to one of his adoptive sisters, and he vowed a deep and undying hatred towards his uncle. In his memoirs published in 1885 he claimed that Dionne "had made a colossal fortune" at the expense of the parishioners of Kamouraska: "The Rev. Mr. [Jacques] Varin, who was always in his debt, was also forced by the circumstances, to buy everything, both for himself and the church, from him, and had to pay, without a murmur, the most exorbitant prices for everything." Yet the record also shows Dionne settling a pension in 1824 on his wife's natural father, Michel Perrault, a school-teacher who was no longer able to work. When one of Dionne's sisters left her drunken, brutal husband, she took refuge in the Dionne household and spent a good part of her life there. A grandson, whose mother died in 1838, was also brought into Dionne's home.
Amable Dionne remained at Kamouraska until 1849, when he had his manor-house at Sainte-Anne-de-la-Pocatière made ready for occupation. He lived in it only three years, however, for he died on 2 May 1852, leaving his wife an estate worth $150,000. The funeral took place on 6 May, with some 2,000 people from the neighbouring area in attendance. His body was interred in the parish church following a funeral service sung by pupils of the Collège de Sainte-Anne-de-la-Pocatière, of which he was a benefactor.
AP, Notre-Dame-de-Liesse (Rivière-Ouelle), Reg. des baptêmes, mariages et sépultures, 10 juin 1811; Sainte-Anne (La Pocatière), Reg. des baptêmes, mariages et sépultures, 6 mai 1852; Saint-Louis (Kamouraska), Reg. des baptêmes, mariages et sépultures, 30 nov. 1781. P.-B. Casgrain, Mémorial des familles Casgrain, Baby et Perrault du Canada (Québec, 1898). [C.-P.-T.] Chiniquy, Fifty years in the Church of Rome (Toronto, 1886). Alexandre Paradis, Kamouraska (1674–1948) (Québec, 1948). Henri Têtu, Histoire des familles Têtu, Bonenfant, Dionne et Perrault (Québec, 1898). F.-J. Audet, "Membres du Conseil spécial," BRH, 7 (1901): 82–83. Serge Gagnon, "Le clergé, les notables et l'enseignement privé au Québec: le cas du collège de Sainte-Anne, 1840–1870," Social Hist. (Ottawa), no.5 (April 1970): 45–65. W. J. Price, "Aux origines d'un schisme; le centenaire d'une réconciliation avortée," RHAF, 12 (1958–59): 519–20. P.G. Roy, "Trois hommes de bien," BRH, 34 (1928): 28–31.
Revisions based on:
Quebec Gazette​, 4 June 1812.
© 1985–2023 University of Toronto/Université Laval
Image Gallery

Cite This Article
Serge Gagnon, "DIONNE, AMABLE," in Dictionary of Canadian Biography, vol. 8, University of Toronto/Université Laval, 2003–, accessed December 9, 2023, http://www.biographi.ca/en/bio/dionne_amable_8E.html.
The citation above shows the format for footnotes and endnotes according to the Chicago manual of style (16th edition). Information to be used in other citation formats:
| | |
| --- | --- |
| Permalink: | http://www.biographi.ca/en/bio/dionne_amable_8E.html |
| Author of Article: | Serge Gagnon |
| Title of Article: | DIONNE, AMABLE |
| Publication Name: | Dictionary of Canadian Biography, vol. 8 |
| Publisher: | University of Toronto/Université Laval |
| Year of publication: | 1985 |
| Year of revision: | 2020 |
| Access Date: | December 9, 2023 |