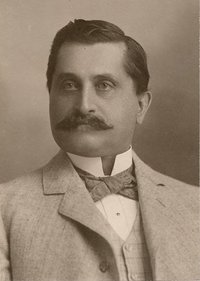 Source: Courtesy of Wikimedia Commons
DIONNE, NARCISSE-EUTROPE, physician, journalist, historian, and librarian; b. 17 May 1848 in Saint-Denis, near Kamouraska, Lower Canada, eldest of the 12 children of Narcisse Dionne and Élisabeth Bouchard, m. first 23 Oct. 1873 Laure Bouchard (d. 1895) at Quebec, and they had ten children, three of whom reached adulthood; m. there secondly 8 Sept. 1896 Emma Bidégaré, and they had four children; d. there 30 March 1917.
Narcisse-Eutrope Dionne's father worked as a joiner in Saint-Denis. He had had some schooling, and his memory and talents as a storyteller were said to be outstanding. The boy's mother was very devout and gave him a sound religious education. He went to the village primary school, where he became friends with Thomas Chapais* and his brother Jean-Charles, who were also from Saint-Denis. Their father, Jean-Charles Chapais*, the mla for Kamouraska, and Édouard Quertier*, the curé of Saint-Denis, sponsored Dionne's studies at the Collège de Sainte-Anne-de-la-Pocatière from 1857. The atmosphere there inclined him towards the priesthood and in 1866 he entered the Grand Séminaire de Québec. He studied theology for two years and then taught at his former college in 1868–69 and the Collège de Lévis in 1869–70.
It was love that changed the direction of Dionne's vocation and career. In 1869 he announced to his family that he no longer wanted to become a priest because he wished to marry his cousin, Laure Bouchard. He then enrolled in the medical faculty at the Université Laval. Despite his family's opposition, he became engaged to his cousin on 20 Jan. 1871, promising to marry her when he finished the studies to which he then zealously devoted himself. In 1872 he obtained his mb and in 1874 his md.
While he was a medical student, Dionne had his first experience of historical research when he worked for a few weeks as an assistant to Francis Parkman*. The American historian was in Quebec to use the archives. Being partially blind, he needed a secretary, and someone had recommended Dionne. This introduction to research with a master of the craft would make a lasting impression on his intellect and creativity.
In June 1873 Dionne went to Princeville in the Bois-Francs region, where he completed his medical training and established his home. On 23 October his marriage with Laure Bouchard, to which his parents had finally given their consent, took place at Notre-Dame de Québec. The couple lived in Princeville until 1 May 1875 and then moved to Quebec. The young doctor opened his office on Rue Saint-François, in Lower Town; he practised in those premises for four years and his first children were born there.
At that time about 30 physicians were active at Quebec, half of them in Upper Town. Encouraged by his friends and perhaps hoping to move up the social ladder, Dionne relocated his office to Rue Saint-Jean in Upper Town. He did not succeed in rebuilding his practice, however, and his income plummeted. At this point he changed careers. His friend Thomas Chapais helped him find a job at Le Courrier du Canada, a Conservative newspaper published in the provincial capital. He began as assistant editor and on 5 Nov. 1880 was appointed editor-in-chief, which he remained until 1884. In this period he was also a member of the Parliamentary Press Gallery, and in 1883 its secretary. He became secretary of the Geographical Society of Quebec and in 1882 was a founding member of the Associated Press of the Province of Quebec, one of the earliest organizations of journalists, editors, and newspaper owners in Canada. These professionals organized excursions and invited their Canadian and American colleagues to go on tourist promotion trips in various parts of Quebec.
During these years Dionne, like Thomas Chapais, began devoting time to historical research. In 1880 he published an essay on the mystery of Samuel de Champlain*'s tomb, for which he had been awarded a prize the previous year by the Spanish consul at Quebec, the Count of Premio-Real. He returned to Kamouraska from time to time to give lectures on agriculture.
Dionne left Le Courrier du Canada abruptly in January 1884, after a disagreement with Léger Brousseau*, the editor, and his brother Jean-Docile*. He became an inspector of federal licences, but that position was abolished a year later. He then found himself in a precarious situation. He was employed for a few months at Joseph-Édouard Cauchon*'s Le Journal de Québec and then became permanent secretary of elections. To provide for his family, however, he also had to work at the Marine and Emigrant Hospital. Despite his departure from Le Courrier, his friendship with the Chapais family was still very much alive and the death of Jean-Charles, his patron, on 17 July 1885 brought the two families together again. It was through the influence of Thomas that he went back to Le Courrier in 1887 as acting assistant editor.
In the years that followed, Dionne maintained a demanding schedule. Thus in 1889 he was able to bring out a volume entitled Jacques Cartier, which was hailed by the critics and won the prize in a competition sponsored by the literary and historical committee of the Cercle Catholique de Québec. It would be reissued in 1933 and again in 1934. Dionne also published a number of articles and pamphlets and he gave many lectures.
In addition to his newspaper work and his historical research, Dionne was active in religious associations. In September 1891 he launched a short-lived bulletin put out by the Ligue du Sacré-Cœur, of which he was president. It was entitled Religion et patrie, and its aim was "to edify, cheer, and instruct."
The return to power of the provincial Conservatives in December 1891 opened the way to a new career for Dionne. On 29 Sept. 1892 he was appointed librarian of the Legislative Assembly, replacing the poet Pamphile Le May, who had served in this capacity since 1867. For 20 years he would enhance the intellectual prestige of the office. He purchased a number of substantial personal collections for the library, including those of Pierre-Joseph-Olivier Chauveau*, Léon Provancher*, and Théodore Robitaille*. Under his direction its holdings of books and pamphlets increased from some 34,000 to nearly 120,000 items. In 1903 he published an impressive Catalogue alphabétique de la Bibliothèque de la Législature de la province de Québec and in 1910 he persuaded the Liberal government of Sir Lomer Gouin* to erect a new building to house the library, whose premises had become too small.
The year 1890 also marked the beginning of his most productive period as an historian. Dionne himself avowed that at this time he worked like a Benedictine, or rather a galley-slave. In 1891 he brought out the first volume of Samuel Champlain, fondateur de Québec et père de la Nouvelle-France: histoire de sa vie et de ses voyages (the second volume would come out in 1906), and a series of Canadian biographies entitled "Galerie historique." He added several other titles to his collected works and contributed to newspapers and journals.
Dionne was inducted into the Royal Society of Canada in 1893 and he became president of its French section in 1901. From 1905 to 1912, at the society's request, he published the Inventaire chronologique des livres, brochures, Journaux et revues publiés en langue française dans la province de Québec depuis l'établissement de l'imprimerie au Canada jusqu'à nos jours. This work and the bibliographical essay of Philéas Gagnon are the most important Canadian works on bibliography that appeared in the period.
After his second marriage, in 1896, Dionne and his wife spent four months travelling in Europe. He took the opportunity to visit the great libraries and participate in events such as an anti-masonic congress held in Trento (Italy). He also sent travel notes to Le Courrier du Canada. In 1900 the Université Laval made him an honorary doctor of letters and from 1907 it assigned him to teach the Canadian archaeology course in the faculty of arts. Dionne played an active part in the preparations for celebrating the tercentenary of Quebec, while continuing to publish at the same rate as ever. Le parler populaire des Canadiens français: ou lexique des canadianismes, acadianismes, anglicismes, américanismes . . . was brought out in 1909. That year also the French government conferred on him the title of officier de l'Instruction publique.
Dionne went back to Europe the following year to represent the Université Laval and the Quebec government at an international conference of librarians in Brussels. He retired in 1912 but remained active. In 1914 he published a collection entitled Les Canadiens français: origine des familles . . . and in 1915 he went with his wife to the San Francisco world's fair as a correspondent for the Quebec Chronicle.
Narcisse-Eutrope Dionne lived out his last years at Quebec, spending summers in his native village of Saint-Denis. He died on Friday, 30 March 1917, at his home on Rue Couillard. Although influenced by conservative 19th-century thinking, Dionne's historical works would remain valuable for many years because of his rigorous methodology.
The principal archival materials concerning Narcisse-Eutrope Dionne remain in the hands of his descendants; however, a complete photocopy of these documents is available at the Arch. de l'Assemblée Nationale, Québec, Fonds N.-E. Dionne.
Dionne's published works are listed in Fernande Villemaire, Bio-bibliographie de Narcisse-E. Dionne (Québec, 1983), which also provides a number of references to articles and studies concerning the subject. Additional sources include the following: DOLQ; Hamel et al., DALFAN; Serge Gagnon, "Le XVIe siècle canadien de Narcisse-Eutrope Dionne à Marcel Trudel (1891–1963)," Rev. de l'univ. d'Ottawa, 47 (1977): 65–83; and two articles by Gilles Gallichan, "Un pionnier de la bibliographie québécoise: Narcisse-Eutrope Dionne, bibliothécaire de la Législature (1892–1912)," Les Cahiers du livre ancien du Canada français (Montréal), 1 (1984), no.2: 4–16, and "Le voyage en Europe de N.-E. Dionne," Cahiers des Dix, 48 (1993): 165–200.
© 1998–2023 University of Toronto/Université Laval
Cite This Article
Gilles Gallichan, "DIONNE, NARCISSE-EUTROPE," in Dictionary of Canadian Biography, vol. 14, University of Toronto/Université Laval, 2003–, accessed September 24, 2023, http://www.biographi.ca/en/bio/dionne_narcisse_eutrope_14E.html.
The citation above shows the format for footnotes and endnotes according to the Chicago manual of style (16th edition). Information to be used in other citation formats:
| | |
| --- | --- |
| Permalink: | http://www.biographi.ca/en/bio/dionne_narcisse_eutrope_14E.html |
| Author of Article: | Gilles Gallichan |
| Title of Article: | DIONNE, NARCISSE-EUTROPE |
| Publication Name: | Dictionary of Canadian Biography, vol. 14 |
| Publisher: | University of Toronto/Université Laval |
| Year of publication: | 1998 |
| Year of revision: | 1998 |
| Access Date: | September 24, 2023 |