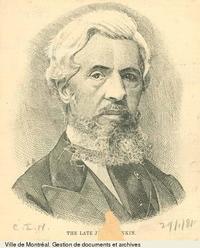 Source: Link
DUNKIN, CHRISTOPHER, lawyer, politician, and judge; b. 25 Sept. 1812 at Walworth (now part of London), England, son of the Honourable Summerhays Dunkin and Martha Hemming; d. 6 Jan. 1881 at Knowlton, Que.
Christopher Dunkin came from a well-to-do English family and hence was given a good education. He studied at the universities of London and then Glasgow from 1829 to 1831. Following his mother's marriage to Jonathan Barber, a doctor and professor of literature who lived in Massachusetts, Dunkin came to the United States. He studied at Harvard University until 1833, when he was appointed a Greek and Latin tutor there. Throughout his university education the courses he took in Latin, Greek, mathematics, and logic had developed his two greatest assets: his exceptional intelligence and his ability to reason. He resigned his tutorial post in 1835 and married Mary, one of the daughters of Jonathan Barber. The latter's professorial activities were increasingly being divided between Massachusetts and Lower Canada, and this probably provided an incentive for Dunkin to move to the Canadian metropolis, Montreal, in 1837. Dunkin's ambition and Tory sentiments presumably played a part in his decision to emigrate to the city in a period when patriotic fervour was at a peak. He served as a correspondent for the Morning Courier from May 1837 to June 1838, and then turned to public administration. He held the post of secretary first to the education commission, which was set up in 1838 [see Sir Arthur William Buller*], and then to the postal service commission [see Thomas Allen Stayner*], before becoming deputy provincial secretary for Canada East, an office he retained from 1 Jan. 1842 until 19 May 1847. He had no difficulty in serving under the governments of William Henry Draper* and of Robert Baldwin* and Louis-Hippolyte La Fontaine*. Meanwhile he studied law with Alexander Buchanan* and then Francis Godschall Johnson*, receiving his commission as a lawyer in 1846.
In partnership with William Collis Meredith and Strachan Bethune, Dunkin went into practice in Montreal. He then pursued his career in the Eastern Townships, a region that offered promising financial prospects because of its rapid economic growth and scarcity of talented lawyers. When St Francis College was founded at Richmond in 1854, Dunkin was appointed its legal counsel to negotiate an affiliation with McGill College of Montreal. In this capacity he sat on the councils of these institutions, and in 1859 he also sat on the Council of Public Instruction.
Dunkin also gained renown as a result of his brilliant Address at the bar of the Legislative Assembly of Canada . . . , published at Quebec in 1853, and his defence of 35 seigneurs before the special tribunal set up in 1855 to adjudge the claims made following the passage of the 1854 act dealing with the seigneurial system [see Lewis Thomas Drummond]. Using well-researched documentation he put forward a solid, logical argument, demonstrating by extensive historical analysis that the seigneurs exercised an absolute right of property over their domains, for which they could legitimately claim compensation equal to the market value. His successful defence in this difficult case quickly brought him into the front ranks of the legal profession, and the substantial fees he received from it enabled him to finance future ventures.
Following the example of many lawyers who had attained professional success, Dunkin had gone into politics. He failed in his first try in 1844, in Drummond, but was elected as a Conservative in Drummond and Arthabaska in 1857, defeating Jean-Baptiste-Éric Dorion*. He held this seat until 1861, then served as the member for Brome from 1862 to 1867, and represented the riding both provincially and federally from 1867 until 1871. His success in elections was probably due more to his organizational skill and tactical sense than to personal warmth or imagination. He apparently acquired a reputation for coldness, conceit, and inflexibility. It was he who sponsored the temperance bill of 1864, which became known as the Dunkin Act. It is not possible to ascertain whether Dunkin introduced this coercive measure out of moral conviction or mere political opportunism, since there were innumerable petitions demanding the strict control of liquor in this period, indeed as many as there would later be in opposition to confederation. No doubt ambitious to serve as a minister in a new government, Dunkin was the only English-speaking Conservative in Canada East to vote against the government of Sir Étienne-Paschal Taché* and John A. Macdonald* on 14 June 1864; the loss of his vote denied the ministry a majority, thus bringing about its fall and precipitating the crisis that was to lead to confederation.
Dunkin attracted attention during the parliamentary debates on confederation in 1865 by delivering a speech against it which many regarded as the best given – it was certainly the longest and best researched. He expressed doubts concerning the functioning of the proposed system, calling it a bad mixture of the British and American constitutions; his principal opposition was to the inadequate guarantees of fair representation for the provinces in the Canadian Senate, and to the establishment of the party system. Dunkin, although he represented Brome County, made little reference to the fears of the Protestant minority in Canada East concerning education on the eve of confederation, and he said nothing when Hector-Louis Langevin*'s bill on education was withdrawn in 1866. Had it been passed, this bill would have given the Protestants of Canada East the right to run their own schools independently.
In 1867 Joseph-Édouard Cauchon, who had been called to form the first Quebec provincial government, offered Dunkin a cabinet post. Wishing to regain credibility with his English-speaking constituents, and drawing on the advice of the federal member for Sherbrooke, Alexander Tilloch Galt*, Dunkin agreed to accept this offer, provided Langevin's education bill would be taken up again in the provincial house. Cauchon, who had previously opposed the bill, could not accept this condition; thus Dunkin turned down the portfolio. Realizing that he could not secure the support of the English-speaking members, Cauchon had no alternative but to withdraw.
Following Cauchon's failure to create a cabinet, the first government of the province of Quebec was formed by Pierre-Joseph-Olivier Chauveau, who had worked with Dunkin on the Council of Public Instruction. The two men knew each other well and because Chauveau was reputed to be more willing to listen to the difficulties of English-speaking Quebeckers, negotiations between the two were easier. Dunkin was slated to be provincial secretary, but after various ministerial deals he replaced Gédéon Ouimet* as provincial treasurer. As preparation for this office he had only his capacity for work and his sense of detail. His appointment inaugurated a political tradition in Quebec that lasted for more than a century: the office of provincial treasurer went to an English-speaking member.
Dunkin now tackled a triple task – to create his department, prepare the province's first budget, and negotiate a sharing of the debt of the former Province of Canada with Ontario. He performed the first task well, bringing the management of income and expenditures under a single department and thus getting rid of the duplication existing under the union. On the other hand he failed to find a quick solution to the problem of debt-sharing [see Pierre-Joseph-Olivier Chauveau], and his budgetary plans were jeopardized as a result. At the same time he lost the confidence of the business community, which criticized him for his inexperience in financial administration. Furthermore he never managed to reconcile his roles as the representative of Protestant interests in the government and as the man chiefly responsible for the financial stability of the province. Protestants expected that he would act as a protector and even press his French-speaking colleagues for legislation to guarantee them a privileged position in the field of education. He failed to satisfy Anglophone public opinion, and he was even accused of collaboration with and subservience to the French-speaking majority. The Montreal Gazette and the Evening Star condemned him roundly.
As a minister, however, Dunkin had a Quebecker's view of politics and the new constitution. In his first budget speech in 1868 he defended the doctrine of the equality of provincial and federal powers and the necessity of involving the provincial government in fostering the economic development of Quebec. He backed down on the question of autonomy when he presented his budget in 1869, being obliged at that time to recognize the financial dependency of the provinces on the federal government, which absorbed almost all public revenue. But his attitude none the less led the Quebec City newspaper L'Événement to regard him as a faithful representative of Quebec's interests. The newspapers of the time sometimes referred to the "Chauveau–Dunkin" government as they had formerly said the "Macdonald–Cartier" government [see George-Étienne Cartier*], an eloquent testimony both to the part he played in this government and to his importance as a target for the opposition papers.
Finding himself impotent as provincial treasurer and having lost his credibility in Quebec business circles, Dunkin agreed to enter the federal cabinet in 1869, although still a member of the provincial assembly. Sir John A. Macdonald, who was reshaping his ministry that year, was looking for an English-speaking representative from the Eastern Townships to replace John Rose and Galt, the latter having been kept on the sidelines since the failure of the Commercial Bank of Canada in Kingston. Apparently Macdonald's first choice was John Henry Pope, an eminent businessman who in fact was to succeed Dunkin in 1871; when Pope refused him, Macdonald undertook negotiations which finally brought Dunkin into the Department of Agriculture on 16 Nov. 1869. This appointment was not surprising since Dunkin was well versed in agriculture. He had a 316-acre property, valued at $10,000 in 1871, at Knowlton on Lac Brome, where farming was conducted as an industrial operation, organized and managed like a factory. The reports of the agricultural exhibition of Brome County mention that Dunkin often won first prize for his livestock. He seems to have been a competent minister of agriculture. On 25 Oct. 1871 he left politics for the bench, becoming a judge of the Superior Court of Quebec for the district of Bedford.
Dunkin had several reasons for resigning from his post. Because of his health he was finding it progressively harder to assume political and administrative duties. In 1869 he had announced to his constituents that he was not well enough to continue after the next elections to hold both federal and provincial seats, and at most would remain their member in Ottawa. In addition, a strong current of opposition had been surfacing in Brome; it was therefore wiser for Dunkin to withdraw from the political scene and accept judicial appointment before a general election was called.
As his past brilliance as a lawyer presaged (he had been made a qc in 1867), Dunkin proved a good judge, his decisions being generally well received. Displaying a certain conservatism in his decisions, he left no legal precedents. Until the end of his life he continued to give attention to his agricultural operation and to his interests in the South Eastern Counties Junction Railway Company. He died in January 1881 at his residence in Knowlton.
In addition to wide-ranging knowledge Dunkin seems to have possessed great intellectual capacity and might have been expected to have become a more outstanding figure in Quebec or Canadian politics. It is possible that he never realized his powers to the full. He may have suffered from a lack of imagination in the exercise of power. In any case he did not succeed in imposing his authority as forcefully as did Pope. He was never feared as was Cauchon, even though he helped to thwart him in 1867. Finally, he never managed to adopt a political stance as independent as Galt's. In spite of everything, including poor health, he did, however, make an important contribution in the field of public administration.
Christopher Dunkin was the author of Address at the bar of the Legislative Assembly of Canada, delivered on the 11th and 14th March, 1853, on behalf of certain proprietors of seigniories in Lower Canada . . . (Quebec, 1853); Address . . . before the Legislative Assembly of Canada, on behalf of certain seigniors, petitioners of the honorable house against a bill introduced by the Hon. Mr. Attorney General Drummond . . . ([Quebec?, 1853?]); Case (in part) of the seigniors of Lower Canada, submitted to the judges of the Court of Queen's Bench and of the Superior Court for Lower Canada . . . (Montreal, 1855); Chronological list or index of grants in fief and royal gratifications of grants in fief, made in New France to the time of its session to the British crown in 1760 (Quebec, 1853); and . . . Speech delivered in the Legislative Assembly . . . during the debate on the subject of the confederation of the British North American provinces (Quebec, 1865).
Brome County Hist. Soc. Arch. (Knowlton, Que.), Christopher Dunkin papers. Can., prov. du, Parl., Débats part. sur la confédération. Débats de l'Assemblée législative (M. Hamelin), [I]. Advertiser and Eastern Townships Sentinel (Waterloo, Que.), 1864–69. Evening Star, 27 Oct. 1869. Gazette (Montreal), October–November 1869. Montreal Herald and Daily Commercial Gazette, 10 Jan. 1881. Morning Chronicle (Quebec), 16 June 1864. Canadian biog. dict., II: 64–66. Dent, Canadian portrait gallery, IV: 209–11. Political appointments, 1841–65 (J.-O. Coté). P.-G. Roy, Les juges de la prov. de Québec, 191. Désilets, Hector-Louis Langevin. André Labarrère-Paulé, Les instituteurs laïques au Canada français, 1836–1900 (Québec, 1965).
© 1982–2023 University of Toronto/Université Laval
Cite This Article
Pierre Corbeil, "DUNKIN, CHRISTOPHER," in Dictionary of Canadian Biography, vol. 11, University of Toronto/Université Laval, 2003–, accessed September 29, 2023, http://www.biographi.ca/en/bio/dunkin_christopher_11E.html.
The citation above shows the format for footnotes and endnotes according to the Chicago manual of style (16th edition). Information to be used in other citation formats:
| | |
| --- | --- |
| Permalink: | http://www.biographi.ca/en/bio/dunkin_christopher_11E.html |
| Author of Article: | Pierre Corbeil |
| Title of Article: | DUNKIN, CHRISTOPHER |
| Publication Name: | Dictionary of Canadian Biography, vol. 11 |
| Publisher: | University of Toronto/Université Laval |
| Year of publication: | 1982 |
| Year of revision: | 1982 |
| Access Date: | September 29, 2023 |