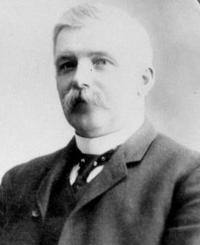 Source: Courtesy of Wikimedia Commons
PICARD, JOSEPH-HENRI (baptized Joseph), carpenter, general merchant, politician, businessman, and office holder; b. 17 Feb. 1857 in Saint-Jean-de-Matha, Lower Canada, son of Joseph Picard and Angèle Roi, farmers; m. 25 Nov. 1903 Martine Voyer in Edmonton, and they had two sons; d. there 23 May 1934.
After completing primary school in his native parish, Joseph-Henri Picard went to work, in the early 1870s, for a paternal uncle, Jacques, in Wotton, Que., where he discovered his natural aptitude for woodwork. He consequently undertook an apprenticeship in carpentry, and by 1880 he was advertising his services as a contractor. In 1884, drawn by burgeoning construction demands in the North-West Territories, Picard travelled to Qu'Appelle (Sask.) and he continued on to Regina two months later. He found work on various building projects along the Canadian Pacific Railway line between Regina and Calgary, which had been completed in August 1883. In early July 1887 he became friends with Father Albert Lacombe*, the influential missionary, who told him of opportunities in the Edmonton area. Picard headed north and arrived at the settlement on 14 July. He soon found employment with the Hudson's Bay Company and was sent to Athabasca Landing (Athabasca), where he built boats for freighting goods to Lake Athabasca and the northern Peace River country.
Picard returned to Edmonton, where he became one of the original members of the Board of Trade set up in 1889. That year he went into partnership with fellow Quebecer Stanislas Larue in the general merchandising firm of Larue and Picard. Their store on Jasper Avenue, opened at the end of August, developed into one of the most successful businesses in the central Alberta district, a major provisioning outlet for settlers in Edmonton's agricultural hinterland and for prospectors heading north during the Klondike gold rush of 1897–98. With their enterprise flourishing, the two men established outlets in the Peace River country and other places, which they consolidated into a single branch store in Grouard at Lesser Slave Lake in 1896. Picard was periodically in the north to oversee business, and in June 1899 he was a witness to the signing of Treaty No.8 [see Émile Grouard]. He and Larue began to diversify their interests by purchasing several commercial and residential properties in the Edmonton area. Real estate gradually became their principal investment, and in 1907 they sold off their shares in the merchandising firm. Picard subsequently invested in industry and transportation: a director of the Western Timber and Mines Company, the Jasper Coal Mine Company, the Edmonton Brewing and Malting Company, the Edmonton Portland Cement Company, and the Arrow Lake Fruit Lands Company, he was also vice-president of the Franco-Canadian Mortgage Company and of the Edmonton Interurban Railway Company.
In addition to his many business activities, Picard was involved in local political life. Edmonton had been incorporated as a town in 1892, with Matthew McCauley* being chosen as its first mayor, and became a city in 1904. Between 1894 and 1907 Picard served several terms as alderman. In 1899 he was defeated by another candidate, but he was returned to office in 1903. Four years later he ran unsuccessfully against John Alexander McDougall for the mayor's seat. He would be elected alderman once more, in 1914, for a two-year period. A staunch Liberal, Picard, with Prosper-Edmond Lessard, Wilfrid Gariépy*, and other prominent francophones, created the Club Laurier, named for Prime Minister Sir Wilfrid Laurier*; he was chosen as its first president in March 1910. Taking a keen interest in the education of Roman Catholic children [see Mary Greene], he was a trustee of the separate-school board, beginning in 1898 with St Joachim School District No.7, which had come into being ten years earlier. It was amalgamated with two other districts into a single Catholic school system for the Edmonton area in 1912; Picard would work with the board until 1924. He also played a leading role in soliciting financial support for Edmonton Jesuit College, established in 1913.
Amid his professional and political successes, Picard had made a profound change in his personal life. In November 1903, at the age of 46, he married a seamstress in the employ of the HBC, Martine Voyer, who had come from Quebec with her family in 1892. The newlyweds made their home on Main Street ( 104th Street), where they raised their two sons, Robert and Laurier. Their residence was something of a hub for the francophone community, with friends and family members gathering there for lively soirées as well as for receptions following baptisms, weddings, and funerals. Picard enjoyed considerable popularity and was esteemed for his judiciousness and his calm, courteous demeanour. Many regarded him as Edmonton's best-dressed citizen; he was rumoured to have his suits tailored in Paris. Yet he remained an unassuming man with a deep sense of service and responsibility towards others.
Picard was firmly committed to preserving the Catholic faith and the French language. During his years in the west he had witnessed an ongoing curtailment of Catholic-education rights and French-language rights [see Charles-Borromée Rouleau*]. Between 1892 and 1901 the territorial government had set uniform standards for the certification of teachers and endeavoured to integrate all schools into a single non-denominational system. The use of French in the Legislative Assembly was gradually eliminated by a bill proposed in 1892 by Frederick William Gordon Haultain*, and its use in schools was restricted. Picard challenged these developments on the educational, political, and religious fronts. As a separate-school trustee, he endeavoured to retain the services of francophone teachers and to guarantee an hour of French-language instruction each day. He had collaborated with other prominent francophones in founding, on 8 April 1894, a local branch of the Société Saint-Jean-Baptiste to provide an institutional basis for French Canadian identity in Edmonton. Picard was its first treasurer and he served as president in 1898 and 1908. With Lessard, François-Xavier Boileau, and others, he established in 1905 a newspaper, Le Courrier de l'Ouest. In 1913 he was elected president of the Edmonton chapter of the Société du Parler Français au Canada [see Stanislas-Alfred Lortie*]. In September of the previous year he had been one of the laymen responsible for setting up the Société de la Colonisation de l'Alberta to assist the clergy of the diocese of St Albert who, since the 1890s, had been attempting to draw French Canadian and Franco-American settlers to the lands north of Edmonton [see Vital-Justin Grandin*]. As one of the original directors of this organization, Picard oversaw the dissemination of propaganda, and he also pressured railway companies to engage French-speaking employees in western Canada.
World War I marked a turning point in Joseph-Henri Picard's fortunes. After several of his business ventures went bankrupt, he found himself in considerable debt and was compelled to sell many of his properties. He retired from business and political activity in 1924. He remained involved in the Northern Alberta Pioneers and Old Timers' Association until his death ten years later at age 77. Local newspapers paid tribute to his mulitifarious roles in the development of the Edmonton area over 47 years. As a builder, a merchant, a real-estate magnate, an industrialist, an alderman, a school-board trustee, and a colonization promoter, Picard had contributed to a dramatic transformation in the physical, cultural, and economic landscape of central Alberta. One newspaper declared: "Such men as Mr Picard have indeed been the makers of history of Alberta."
Le Courrier de l'Ouest (Edmonton), 7 déc. 1905; 3 janv., 7, 14, 21 nov. 1907; 9 avril 1908; 3 mars, 22 sept. 1910; 2 nov. 1911; 9 janv., 29 mai, 27 nov. 1913; 19 févr., 17 déc. 1914; 14 janv. 1915. Edmonton Bull., 25 May 1934. La Survivance (Edmonton), 30 mai 1934. Claire Desrochers, "Joseph-Henri Picard (1857–1934): businessman and school board member," in Glimpses of the Franco-Albertan past: recollections and studies, ed. Alice Trottier et al. (Edmonton, 1981), 65–76. Dictionnaire de l'Amérique française: francophonie nord-américaine hors Québec, Charles Dufresne et al., édit. (Ottawa, 1988), 283–84. Eight routes to the Klondyke: with tables of distances, cost of outfits, map of routes, and other information, comp. Walter Moberly (Winnipeg, [1898?]). E. J. Hart, Ambition and reality: the French-speaking community of Edmonton, 1795–1935 (Edmonton, 1980). R. J. A. Huel, "Gestae Dei per Francos: the French Canadian experience in western Canada," in Visions of the New Jerusalem: religious settlement on the prairies, ed. B. G. Smillie (Edmonton, 1983), 39–53. "Joseph H. Picard," in Men and makers of Edmonton, Alberta … (Edmonton, 1913): www.ourroots.ca (consulted 4 Jan. 2013). "Joseph H. Picard," in Short sketches of the history of the Catholic churches and missions in central Alberta, comp. É.‑J. Legal ([Winnipeg, 1914?]), 147–48. "Joseph H. Picard," in Souvenir of Alberta … (Winnipeg, 1906), 49. France Levasseur-Ouimet, 1899–1999, Saint-Joachim, la première paroisse catholique d'Edmonton (Edmonton, 1999). M. R. Lupul, The Roman Catholic Church and the North-West school question: a study in church–state relations in western Canada, 1875–1905 (Toronto, 1974). A. G. Morice, Edmonton et l'Alberta française: impressions et statistiques ([Edmonton], 1914). Marie Moser, "The characteristics of the French-Canadian community in the Edmonton area, as reflected in L'Ouest canadien, 1898–1900," in Glimpses of the Franco-Albertan past: recollections and studies, 79–99. Robert Painchaud, Un rêve français dans le peuplement de la prairie (Saint-Boniface [Winnipeg], 1986). Jean Pariseau, Les oblats de Marie-Immaculée dans les paroisses canadiennes-françaises de la région de Rivière-de-la-Paix, 1912–1967 (Ottawa, 2002). D. B. Smith, "A history of French-speaking Albertans," in Peoples of Alberta: portraits of cultural diversity, ed. Howard and Tamara Palmer (Saskatoon, 1985), 84–108. Alice Trottier, "Les oblats et la colonisation en Alberta," in Western Oblate Studies 1: proceedings of the first symposium on the history of the Oblates in western and northern Canada …, ed. R.[‑J.‑A.] Huel et al. (Edmonton, 1990), 107–16.
© 2015–2023 University of Toronto/Université Laval
Cite This Article
Timothy P. Foran, "PICARD, JOSEPH-HENRI (baptized Joseph)," in Dictionary of Canadian Biography, vol. 16, University of Toronto/Université Laval, 2003–, accessed October 1, 2023, http://www.biographi.ca/en/bio/picard_joseph_henri_16E.html.
The citation above shows the format for footnotes and endnotes according to the Chicago manual of style (16th edition). Information to be used in other citation formats:
| | |
| --- | --- |
| Permalink: | http://www.biographi.ca/en/bio/picard_joseph_henri_16E.html |
| Author of Article: | Timothy P. Foran |
| Title of Article: | PICARD, JOSEPH-HENRI (baptized Joseph) |
| Publication Name: | Dictionary of Canadian Biography, vol. 16 |
| Publisher: | University of Toronto/Université Laval |
| Year of publication: | 2015 |
| Year of revision: | 2015 |
| Access Date: | October 1, 2023 |