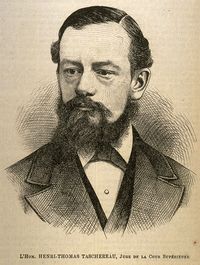 Source: Courtesy of Bibliothèque et Archives Nationales du Québec / 52327/2070235
TASCHEREAU, Sir HENRI-THOMAS, lawyer, journalist, politician, and judge; b. 6 Oct. 1841 at Quebec, son of Jean-Thomas Taschereau*, a lawyer, and Louise-Adèle Dionne; m. first 22 June 1864 Séverine Pacaud, daughter of Édouard-Louis Pacaud*, in Princeville, Lower Canada, and they had ten children; m. secondly 15 April 1885 Coralie Globensky, the widow of Henri Masson, in Montreal; d. 11 Oct. 1909 in Montmorency, France.
Henri-Thomas Taschereau studied at the Petit Séminaire de Québec from 1851 to 1859, and then entered the Université Laval, where he graduated in law in 1862. An essay in rhetoric that he wrote on the library of Alexandria earned him several honours and, according to historian Pierre-Georges Roy*, it was long held up as one of the best literary compositions ever submitted in the various competitions held by the university. He was called to the Lower Canadian bar on 5 Jan. 1863.
Taschereau took up his profession at Quebec. A descendant of a family prominent in the judiciary – his father was at that time a deputy judge of the Superior Court – he soon built up a large practice. In 1864 he went into partnership with Didier Montambault and then, around 1874, with Taschereau Fortier. He was also interested in politics. In March 1862, to fill what he regarded as a gap in French Canadian newspapers, he had begun publishing Les Débats, a paper in which he sought "to report the debates in the house with complete accuracy and objectivity." In June, however, after one session, the paper ceased publication. Its demise was probably not unrelated to the fact that the Legislative Assembly was already paying Le Journal de Québec £300 to record the debates. In the 1863 elections Taschereau ran as the Liberal candidate in Dorchester against Hector-Louis Langevin. The campaign was characterized by intimidation and corruption – the Conservatives would accuse Taschereau of having brought supporters to Sainte-Claire and Saint-Isidore who goaded the farmers to violence. He was defeated. Having joined the editorial staff of La Tribune, the organ of the Macdonald–Dorion government [see John Sandfield Macdonald*; Antoine-Aimé Dorion*], he decided not to run against Langevin in 1864.
From 1871 to 1873 Taschereau represented Saint-Louis ward on the Quebec City council. He helped particularly to relaunch plans for the North Shore Railway. A director of the company, he travelled up and down the counties of Champlain, Joliette, Berthier, and L'Assomption with Joseph-Édouard Cauchon*, the president, to get subsidies; the city of Quebec itself promised $1,000,000. Meanwhile, in the 1872 general elections Taschereau had tried his luck on the federal scene in the rural riding of Montmagny and had won easily against Joseph-Octave Beaubien*. He was returned by acclamation in 1874. In the House of Commons Taschereau played an active role in the discussions about the creation of the Supreme Court. Pleading the unique character of the French code of civil procedure, he presented a motion to limit the jurisdiction of the court to cases falling under federal law, but his proposal was rejected by 118 votes in 1875 [see Télesphore Fournier*].
When Taschereau was 37, his reputation as a jurist brought him an appointment to the Quebec Superior Court. In succession he served as a judge in the districts of Kamouraska (1878), Joliette (1886), and Terrebonne (1887). As judge for Terrebonne he was legally required to live in Montreal and so took up residence there in 1887. He was to sit on several important cases, in particular those of Cordélia Viau and Samuel Parslow in 1898. The trials of these two prisoners, who were accused of murdering Viau's husband, created a great stir in the province and roused much passion. When the jury found Viau guilty on 2 February, Taschereau waited to pronounce sentence until the Court of Appeal had ruled on various reserved questions of law that had arisen during the trial. On 7 June the court quashed the guilty verdict and ordered a new trial. Taschereau again sat on this trial, as well as on Parslow's. The two accused were found guilty, and were sentenced by him to be hanged on 10 March 1899.
In 1901 the federal government set up a royal commission to inquire into the existence of a combination among the paper manufacturers and dealers in Canada and it appointed Taschereau the commissioner. In his report to the secretary of state the following year he proved that there was an association of Canadian paper manufacturers consisting of 26 companies which had "enhanced the prices then current and ruling in Canada to [the extent of] at least twenty-five cents per hundred pounds on news print, sheet and roll." Four years later Taschereau was asked to preside over another inquiry; its focus was on the Montreal police force and the problem of prostitution. In his report to the city council, he analysed the social customs of his times and made reference to an observation of French author André Gide that houses for "relations" were more common than gaming-houses or taverns. Denouncing the tolerance being shown by the police, he pronounced himself in favour of suppressing brothels.
Henri-Thomas Taschereau's competence in the field of law would be recognized in 1907, when he was appointed chief justice of Quebec, replacing Sir Alexandre Lacoste*. The following year he was knighted by Edward VII. He was not to exercise his new duties for long, however. He died on 11 Oct. 1909.
Henri-Thomas Taschereau is the author of Affaire Cordélia Viau (meurtre de St-Canut); résumé du juge Taschereau, pour les jurés, avant le verdict; le 2 février 1898, à Ste-Scholastique, P.Q. (s.l., [1898?]); Report of Hon. Justice Taschereau on the police investigation, Montreal, and its results (Montreal, 1905); and The social evil: toleration condemned; report (second part) of the Hon. Justice Taschereau, to the City Council of Montreal, Feb. 18, 1905, intro. D. C. L. Weir ([Montreal], 1909).
ANQ-M, CE1-33, 15 avril 1885. ANQ-MBF, CE2-4, 22 juin 1864. ANQ-Q, CE1-1, 7 oct. 1841; E53/96. Les Débats (Québec), 22 mars 1862. Le Soleil, 12 oct. 1909. Aux électeurs du comté de Montmagny ([Montmagny, Qué., 1872?]). Pauline Cadieux, Cordélia; ou, la lampe dans la fenêtre (Montreal, 1979). Can., Parl., Sessional papers, 1902, no.53. L.-O. David, Souvenirs et biographies, 1870–1910 (Montréal, 1911), 33. Désilets, Hector-Louis Langevin, 119. J. Hamelin et al., La presse québécoise, vol.2. Jean et Marcel Hamelin, Les mœurs électorales dans le Québec de 1791 à nos jours (Montréal, 1962), 69. In the Exchequer Court of Canada; petition of right; Sir N. F. Belleau et al. vs the Queen; Henri T. Taschereau, attorney and counsel for suppliants (n.p., n.d.). Le Jeune, Dictionnaire. Andrée Lévesque, "Éteindre le Red Light: les réformateurs et la prostitution à Montréal entre 1865 et 1925," Urban Hist. Rev. (Toronto), 17 (1988–89): 191–201. P.-G. Roy, La famine Taschereau (Lévis, Qué., 1901), 154. Rumilly, Hist. de la prov. de Québec, vols.2, 14.
© 1994–2023 University of Toronto/Université Laval
Cite This Article
Yves Hébert, "TASCHEREAU, Sir HENRI-THOMAS," in Dictionary of Canadian Biography, vol. 13, University of Toronto/Université Laval, 2003–, accessed December 7, 2023, http://www.biographi.ca/en/bio/taschereau_henri_thomas_13E.html.
The citation above shows the format for footnotes and endnotes according to the Chicago manual of style (16th edition). Information to be used in other citation formats:
| | |
| --- | --- |
| Permalink: | http://www.biographi.ca/en/bio/taschereau_henri_thomas_13E.html |
| Author of Article: | Yves Hébert |
| Title of Article: | TASCHEREAU, Sir HENRI-THOMAS |
| Publication Name: | Dictionary of Canadian Biography, vol. 13 |
| Publisher: | University of Toronto/Université Laval |
| Year of publication: | 1994 |
| Year of revision: | 1994 |
| Access Date: | December 7, 2023 |