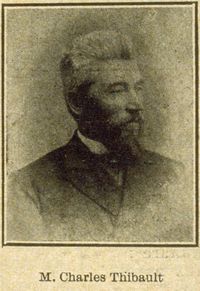 Source: Courtesy of Bibliothèque et Archives Nationales du Québec / 52327/2072443
THIBAULT, CHARLES, lawyer, politician, office holder, author, journalist, and lecturer; b. 16 Sept. 1840 in Saint-Athanase (Iberville), Lower Canada, son of Charles Thibault, a farmer, and Esther Lebeau; m. 10 April 1866 Nathalie Viau, adopted daughter of Alexis Dubord, in Montreal, and they had a son and a daughter; d. accidentally 2 Jan. 1905 in Sutton, Que.
Charles Thibault shone in the classical studies he undertook from 1852 to 1860 at the Collège Sainte-Marie-de-Monnoir. Its founder, Abbé Édouard-Joseph Crevier, guided him "into the way of love of God and country." Thibault and his fellow students enthusiastically adopted the ideas of journalist Stanislas Drapeau*, who fought against French Canadian emigration to the United States, preached colonization to take hold of the vast undeveloped regions of Quebec, and, as business manager of Le Courrier du Canada (Québec), struggled for the triumph of conservatism.
Upon leaving the college Thibault began theological studies which he is said to have given up for health reasons; he then went into law. He was called to the bar in January 1866 after articling in the office of Moreau, Ouimet, et Chapleau in Montreal. According to his biographer Léon Ledieu, "he was soon able to build himself a most respectable and lucrative clientele" through his influential father-in-law, Alexis Dubord, a wealthy Montrealer. This claim may be true, although a remark by Thibault in L'Étendard of Montreal in August 1883 leaves room for some doubt: "The saddest form of distress is poverty in a black tailcoat. Our cities teem with professional men. Doctors in them no longer have patients, or lawyers cases. So there is distress of the saddest kind."
Thibault went into politics, possibly from necessity, certainly from inclination. In the 1872 federal elections he had run for Shefford but lost to Liberal Lucius Seth Huntington* by 366 votes. Turning to the municipal scene, he sat on the Montreal city council from 1877 to 1882. He would enjoy recalling in his speeches that it was thanks to his efforts that the city changed the street names Sydenham, Seaton, and Durham to Maisonneuve, Champlain, and Plessis. He became better known, however, as the champion of the Conservative party. More than 200 Tory candidates are estimated to have received assistance from him at election time. Thibault earned a reputation as a braggart and crowd-pleaser. A zealous propagandist, in 1878 he published a vitriolic pamphlet, Cinq années d'administration grite ou le Canada ruiné. Five years had sufficed, he asserted, for Alexander Mackenzie* to bring to an end 20 years of unlimited prosperity. "Behold now our happiness vanished, our citizens murdered in our great cities, our country bankrupt, our tradespeople insolvent, and our farmers at the mercy of an unfair tariff that lays them at the feet of the Americans." He tried his luck at the polls again on the federal scene that year, in Iberville, but again suffered defeat.
In 1880 Thibault's eagerness to serve the party earned him the position of secretary to the official Canadian arbitrators, who heard and examined claims to compensation for expropriated lands or properties and for damages caused by the construction of public works. He hoped that the post, by placing him in closer proximity to the higher echelons of the party, would finally enable him to get elected to parliament and thus realize a dream of his youth. This success was not to be. His work left him a great deal of leisure, however, and he used it to write. In 1883 he published a sympathetic English-language biography of Sir Charles Tupper*, which came out in French the following year. And he travelled, being constantly on the road from 1881 to 1885. He took advantage of the trips required by his office to visit the many francophone communities scattered across Canada. During his holidays he was to be found with groups of French Canadians who had emigrated to New England; he attended their national conventions, inquired into their problems, and participated in their discussions.
Under the pseudonyms Jean Bart and Frontenac, Thibault recounted his travels in Le Travailleur of Worcester, Mass., and L'Étendard of Montreal. He dwelt in particular upon the emigrants' heroic efforts to ensure the survival of their national identity. More accustomed to the scorn of Quebec's various élites, they received him with open arms. His reputation grew, and he was invited to speak at Saint-Jean-Baptiste day celebrations in Quebec, Ontario, and New England. On these occasions he showed himself to be high-minded, eloquent, and remarkably erudite, very different from the entertainer people had previously known.
Thibault kept repeating to his audiences the stereotypes of ultramontane ideology. They were among the elect, chosen by Providence. They owed their origins to the "Christian nation par excellence," France. God had permitted them to change masters when France, "intoxicated with the poison of error," had set out on the road to revolution. To remain faithful to their mission French Canadians must continue to be a nation of farmers and retain, under the guidance of their priests, the simplicity of their morals. Vigilance was essential. "Are we not being attacked by the old illnesses that are consuming Europe? Is radicalism not infiltrating our ranks?" It was the taste for luxury, the spirit of adventure, and the desire to make a fortune, he said, that had driven hundreds of thousands of French Canadians to the United States.
But Thibault, who had a brother and sister in New England, did not blame these people and refused to consider them black sheep, or traitors, as they were called in certain circles. If, he wrote in 1880, they were offered the same material advantages they enjoyed abroad, they would return. They were, moreover, the instruments of Providence. The presence of 208,100 French Canadians in New England in 1880, "the preservation of their autonomy, of their homogeneity, of their language . . . [these] are strange, surprising realities." God had cast them "like a handful of stars" to enlighten "the Protestant nations sunk in indolence, iniquity, and vice." It looked as if, when the Yankee, "sapped by debauchery, guilty of every abuse," deservedly disappeared from this earth, the French Canadian would be called upon to rebuild a strong Catholic nation on the ruins of American society. In a burst of enthusiasm he declared in 1887, "In 50 years our national holiday will be celebrated in Boston, probably by then the centre of French Canada."
In 1887 Thibault retired to Waterloo, Que., having fallen out with the leaders of the Conservative party, who criticized him for his friendship with ultramontane journalist François-Xavier-Anselme Trudel* and for his role at the 1886 convention of French Canadians resident in the United States, which had been held at Rutland, Vt. The convention had vigorously condemned "the unfair and cruel conduct of the Canadian federal authorities . . . and in particular the judicial murder of Louis Riel[*], carried out on the order of the said Canadian authorities." Thibault, who had approved the resolution, was invited to take his retirement. The provincial Conservatives, however, recruited him to run in the June 1890 elections against the Part] National in Drummond; once more he was defeated.
Charles Thibault's last years were quiet. He returned to practising law and lectured here and there in Quebec. He died on 2 Jan. 1905 at Sutton, struck down by a train at a level crossing.
Among Charles Thibault's works are Hier, aujourd'hui et demain ou origines et destinées canadiennes (Montréal, 1880); Biography of Sir Charles Tupper, minister of railway, k.c.m.g., c.b., m.p., high commissioner of Canada to England ([Montreal?], 1883), translated into French as Biographie de sir Charles Tupper, c.c.m.g., c.b., ministre des Chemins de fer et des Canaux du Canada et haut commissaire à Londres ([Québec?], 1884); Biographie de Stanislas Drapeau, auteur des "Etudes sur les développements de la colonisation du Bas-Canada" et promoteur des "Sociétés de secours" pour venir en aide aux colons défricheurs ([Ottawa?], 1891); and Discours choisis (Montréal, 1931), which brought together four speeches which had already been published separately: "Panégyrique du révérend Édouard Crevier, v.g. . . . ," given on 30 June 1881, "La croix, l'épée et la charrue ou les trois symboles du peuple canadien," given on 27 June 1884, "Le double avènement de l'homme-Dieu ou les deux unités politiques et religieuses des peuples . . . ," given on 28 June 1887, and "L'Irlande," given on 29 Jan. 1888. In addition, Thibault published numerous articles on French Canadian communities in Canada and the United States in L'Étendard (Montréal) between 1884 and 1886.
Some letters by Thibault were published as "Charles Thibault, ses lettres au major Edmond Mallet," Gabriel Nadeau, édit., Soc. Hist. Franco-Américaine, Bull. (Boston), 1944–45: 46–80.
ANQ-M, CE1-51, 10 avril 1866; CE4-3, 17 sept. 1840. NA, MG 29, D61: 7898–901. É.-J.-A. Auclair, Figures canadiennes; deuxième série; quelques figures marquantes de nos hommes de la politique, de l'éloquence, et des lettres (Montréal, 1933), 146–54. J.-E. Boivin, "Me Charles Thibault," Soc. Hist. de la Vallée du Richelieu, Cahier ([Saint-Jean, Qué.]), 4 ([1955?]): 15–19. CPG, 1873, 1879, 1891. DOLQ, vol.1. L[éon] L[edieu], Biographie de Charles Thibault, ecr., suivi de son discours prononcé aux fêtes des noces d'or de la Saint-Jean-Baptiste, à Montréal, le 27 juin 1884 sur la croix, l'épée et la charrue ou les trois symboles du peuple canadien (Québec, 1884). Rumilly, Hist. de la prov. de Québec, vols.1–10.
© 1994–2023 University of Toronto/Université Laval
Image Gallery

Cite This Article
Yves Roby, "THIBAULT, CHARLES," in Dictionary of Canadian Biography, vol. 13, University of Toronto/Université Laval, 2003–, accessed October 4, 2023, http://www.biographi.ca/en/bio/thibault_charles_13E.html.
The citation above shows the format for footnotes and endnotes according to the Chicago manual of style (16th edition). Information to be used in other citation formats:
| | |
| --- | --- |
| Permalink: | http://www.biographi.ca/en/bio/thibault_charles_13E.html |
| Author of Article: | Yves Roby |
| Title of Article: | THIBAULT, CHARLES |
| Publication Name: | Dictionary of Canadian Biography, vol. 13 |
| Publisher: | University of Toronto/Université Laval |
| Year of publication: | 1994 |
| Year of revision: | 1994 |
| Access Date: | October 4, 2023 |