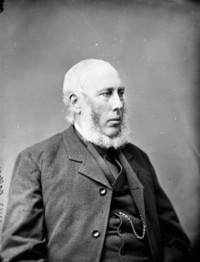 WALLACE, WILLIAM, journalist and politician; b. 4 Feb. 1820 near Galston (Strathclyde), Scotland, son of John Wallace and Anne (Ann) Spiers; m. in 1852 Mary Ann (Anne) Kent of Simcoe, Canada West; d. 28 Aug. 1887 at Simcoe.
William Wallace, a member of the Church of Eng land, received a parish school education at Whithorn (Dumfries and Galloway) before immigrating to Canada in 1840 or 1842. He settled at Simcoe, where on 16 Jan. 1861 he founded the British Canadian, a paper he owned and edited until his death, when he was succeeded by his son. Conservative in politics, the newspaper reprinted quantities of fiction and was concerned with local affairs, monetary reform, and agriculture. As was common in the 19th century, Wallace ran a printing business in conjunction with his paper and in 1879 he opened a retail bookstore. He also obtained public employment: he was paymaster of the Intercolonial Railway in 1869–70, assistant secretary to the Intercolonial Railway commissioners in 1870–71, and commissariat officer of the eastern division of the Canadian Pacific Railway survey in 1871–72.
An eager politician, Wallace served on the Simcoe school board for 40 years and was chairman when he died. He was reeve (1858) and mayor (1884) of Simcoe and a member of the Norfolk County Council. By 1872 he was so anxious to sit in the House of Commons that he contested Norfolk South as a Conservative against both Henry John Killmaster, a Liberal, and the incumbent Conservative, Peter Lawson. Lawson appealed to Sir John A. Macdonald* to secure Wallace's withdrawal, and the prime minister leaned heavily on Wallace, both by personal letter and through the agency of Aquila Walsh, the member for Norfolk North, but Wallace and his supporters "would consent to no compromise." Lawson finally withdrew, and Wallace won the riding by a handy 110 votes. He did not stand in 1874, when Lawson was defeated, but after John Stuart, the Liberal victor, was unseated, Wallace easily won the ensuing by-election on 16 Dec. 1874. Narrowly elected in 1878, he was defeated in 1882 and did not contest the seat in the next general election in February 1887.
Wallace was an interesting, but not an important federal politician. Although possessing an independent turn of mind, he was a loyal Conservative and in his second parliamentary session defended the government during the Pacific Scandal. He was also an ardent supporter of imperial federation and strongly anti-American. In favour of compulsory voting, he was nevertheless opposed to the ballot on the ground that "every man had a right to know how his neighbour voted." Railways were one of his bêtes noires; in 1882 he doubted "exceedingly whether Canada has ever derived any benefit from railway companies." In his opinion, as he wrote strongly to Macdonald, the transcontinental railway and the accompanying land grants should under no circumstances be given to speculators, especially if they were foreign. He wanted public ownership of all railway and telegraph systems.
In 1874 Wallace was accused of improper behaviour while a member of the house. In November, during the by-election in Norfolk South, Prime Minister Alexander Mackenzie* told John Stuart, the Liberal candidate, that between 1869 and 1872 Wallace had as a railway employee received more in federal funds than he had filed vouchers for; moreover, he had remained on the federal pay-roll after his election though no longer employed by the railway, and up to June 1873 again received more federal funds than he had accounted for. The totals showed a difference of $60,000. Mackenzie made no direct accusation in public, but his implicit suggestion was damaging, especially when coupled with a blunt statement to Stuart that Wallace had overpaid himself by about $1,770 in salary. Other Liberals were less prudent: Joseph Rymal, the member for Wentworth South, for example, accused Wallace of dishonesty and said "it was not at all improbable that a portion of that $60,000 was expended by Mr. Wallace in 1872 in corrupting the electors of Norfolk." Wallace won the by-election in 1874. As the story later unfolded in the House of Commons, it became clear that he was a careless accountant, not a dishonest official. It also became evident, however, that he had indeed committed the major indiscretion of remaining on the public pay-roll after his election in 1872. He was thereafter careful to see that his name was not associated with dubious practices, even though he was always a dedicated constituency man, assiduous in his use of patronage.
Wallace's major claim to fame was his advocacy of currency reform. He belonged to the 19th-century tradition of agitators for irredeemable paper money and government notes. Variants of the proposal were advocated by men as influential as Isaac Buchanan and William Alexander Thomson*. Depression tended to precipitate these campaigns, and the slump of the 1870s occasioned lengthy discussions on monetary policy. Wallace argued that the depression was simply a product of mismanagement, and was "due to the system of credit, a necessity under our policy. It is false and vicious, impoverishing the many and enriching the few, destroying industry and degrading the people . . . . They had idolised gold, placed it on a throne, made it master of the world, and, to day, it was crushing the life out of capital and destroying labour." He felt that inflation too was a result of the "same abominable system of credit." Many observers attributed the economic ills of the 1870s to overproduction. Wallace dismissed this argument with contempt, stating that "over-production is of itself an impossibility – that the wants of men are as illimitable as human thought – and man is able to consume all that he can produce." The monetary system even generated the "conflict between capital and labour all over the world." The solution to these problems, of course, was irredeemable paper currency. "It was plain that money of this kind which would buy all a man wanted and pay all his debts was good enough." He revealed the crudeness of his approach when he exclaimed: "The hon. Minister of Finance thinks it best to borrow money. I think it better to make it."
These views were presented to the House of Commons over a ten-year period in long and repetitive speeches. Wallace often met with heavy heckling, but in spite of boring and irritating his colleagues, he retained considerable popularity. In 1885, 34 government members of parliament petitioned Macdonald on Wallace's behalf, asking that he be appointed dominion land commissioner at Winnipeg. Macdonald declined to make the appointment, however. The Simcoe Norfolk Reformer was obviously correct when it commented in Wallace's obituary: "No doubt he would have risen much higher in the Dominion's service but for his unfortunate connection with the Paper Money party, of which he was looked upon as the leader."
PAC, MG 26, A. Can., House of Commons, Debates, 1875–82. British Canadian (Simcoe, Ont.), 1861–87. Globe, 1874. Norfolk Reformer (Simcoe), 1 Sept. 1887. Canadian directory of parl. (J. K. Johnson). CPC, 1873; 1875; 1879; 1883; 1889. Illustrated historical atlas of the county of Norfolk, Ont., comp. H. R. Page (Toronto, 1877; repr. Belleville, Ont., 1972). Lewis Brown, A history of Simcoe, 1829–1929 . . . (Simcoe, 1929). C. D. W. Goodwin, Canadian economic thought: the political economy of a developing nation, 1814–1914 (Durham, N.C., and London, 1961). Simcoe and Norfolk County: in commemoration of the Simcoe reunion of Norfolk County old boys, August 2nd to 7th, 1924 (Simcoe, 1924). Swainson, "Personnel of politics."
© 1982–2023 University of Toronto/Université Laval
Cite This Article
Donald Swainson, "WALLACE, WILLIAM," in Dictionary of Canadian Biography, vol. 11, University of Toronto/Université Laval, 2003–, accessed November 28, 2023, http://www.biographi.ca/en/bio/wallace_william_1820_1887_11E.html.
The citation above shows the format for footnotes and endnotes according to the Chicago manual of style (16th edition). Information to be used in other citation formats:
| | |
| --- | --- |
| Permalink: | http://www.biographi.ca/en/bio/wallace_william_1820_1887_11E.html |
| Author of Article: | Donald Swainson |
| Title of Article: | WALLACE, WILLIAM |
| Publication Name: | Dictionary of Canadian Biography, vol. 11 |
| Publisher: | University of Toronto/Université Laval |
| Year of publication: | 1982 |
| Year of revision: | 1982 |
| Access Date: | November 28, 2023 |