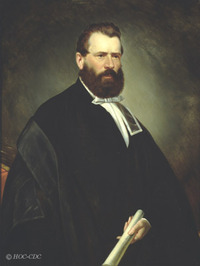 Source: Link
TURCOTTE, JOSEPH-ÉDOUARD, lawyer, politician, and entrepreneur; b. 10 Oct. 1808 at Gentilly, Lower Canada, son of Joseph Turcot, a merchant, and Marguerite Marchildon; d. 20 Dec. 1864 at Trois-Rivières, Canada East.
Four Turcot (or Turcault) families were established in Canada. Abel Turcot, Joseph-Édouard's ancestor, was a native of Mouilleron-en-Pareds, in Vendée. He immigrated to Château-Richer, then settled at Sainte-Famille, on Île d'Orléans. Augustin Turcot, Joseph-Édouard's grandfather, lived at Trois-Rivières, and his son Joseph set up as a merchant at Gentilly, where he raised a large family.
Joseph-Édouard pursued his classical studies at the Séminaire de Nicolet from 1821 to 1829, then decided in favour of the priesthood. In 1831 he lost his right arm in an accident. This loss coincided with a change in his career, but no document permits us to establish a relationship of cause and effect between the two events. He turned to the legal profession and entered the office of Elzéar Bédard* at Quebec. Turcotte became involved in the political agitation of the day, writing liberal and revolutionary pieces inspired by the French philosophes and liberals. Then he joined the supporters of Louis-Joseph Papineau* and became a radical Patriote. As such, he attempted in the Nicolet by-election in the spring of 1835 to inherit the support given to the Patriote Louis Bourdages* but was defeated by Major Jean-Baptiste Hébert, an influential farmer in the Nicolet area. Called to the bar on 6 May 1836, Joseph-Édouard Turcotte practised his profession at Quebec and pursued his Patriote activities. In the June 1837 election he used his influence to assist Michael Connolly, candidate for the lower town of Quebec against John Munn*, and he joined the Comité permanent de Québec which was constituted in September of that year. He was left free at the time of the arrests in November 1837 and November 1838, and through speeches continued to serve the Patriote cause. He obtained from Judge Joseph-Rémi Vallières* de Saint-Réal a writ of habeas corpus for, among others, Célestin Houde, a farmer from Rivière-du-Loup (Louiseville), accused of seditious activities; despite the suspension of this right in Lower Canada [see Jean-Roch Rolland], Vallières was continuing to grant it. Like Augustin-Norbert Morin, Louis-Hippolyte La Fontaine, and George-Étienne Cartier*, Turcotte thus distinguished himself as a Patriote, a fact not previously made known in Canadian historical studies.
Without abandoning the practice of law, Turcotte from now on devoted the greater part of his energies to politics. Having moved to Trois-Rivières in 1839, he stood as an anti-unionist candidate in Saint-Maurice in April 1841, and defeated the redoutable Colonel Bartholomew Conrad Augustus Gugy*. His political conduct, however, brought strong opposition. Because Turcotte had accepted two paid governmental posts, translator of laws in December 1841 and secretary of the commission on seigneurial tenure in April 1842 [see Joseph-André Taschereau], he was the object of a campaign to force him to give up his seat in the Legislative Assembly. But the electors themselves were called upon to settle the question, and they re-elected him in July 1842. At that time political parties were only in the process of formation, and a great deal of freedom was left to representatives when votes were taken in the assembly. Turcotte, first known as a Reformer, associated himself temporarily with the Tories from both sections of the province in support of Governor Charles Theophilus Metcalfe* against the Executive Council in December 1843. This vote, for which he was later to be fiercely reproached, did not prevent him from campaigning as a Reformer in October 1844 and assisting other candidates who supported La Fontaine. According to Le Canadien, his defeat in Saint-Maurice was occasioned not by his betrayal but by the fact that his supporters believed they had been neglected.
In the autumn of 1847 Turcotte caused another outcry. His sympathies went at first to the éteignoirs [see Jean-Baptiste Meilleur*] in their opposition to the school tax, then in December he accepted the post of solicitor general in the ministry of Henry Sherwood*. Once again he was charged with opportunism, and was called the "tool" of governors Sydenham [Thomson*], Bagot*, and Metcalfe, and of Dominick Daly. In the elections that followed he was defeated by Louis Guillet in Champlain and by Louis-Joseph Papineau in Saint-Maurice, so that he was obliged to resign as solicitor general in March 1848. But Turcotte returned to the assembly in 1851 as member for Saint-Maurice, despite the persistent attacks of La Minerve and the Journal de Québec. During his two subsequent terms he made his greatest mark as a parliamentarian. He gave impassioned and eloquent speeches in the great debates of the day: the financing of schools, the abolition of seigneurial tenure, the choice before the government for a north shore railway in Quebec and the provincial guaranty required. From this time on he was identified with the Bleu party, although he sometimes opposed it in the house.
While pursuing a parliamentary career, Turcotte also engaged his energies and his capital in the development of the town and region of Trois-Rivières. He was mayor of Trois-Rivières from 1857 to 1863. The operation of the Radnor ironworks in the parish of Saint-Maurice, the building of a huge hotel at Shawinigan Falls, the founding of the Collège de Trois-Rivières in 1860, the extension of the town wharf, the promotion and construction of a branch line of the Grand Trunk linking Arthabaska to Trois-Rivières, the project of a railway branch line between Grandes-Piles and Trois-Rivières: these are some of the achievements that cost him his fortune and health, although they won him fame in the Trois-Rivières region. From 1847 to 1853 he was also owner and editor of the Journal des Trois-Rivières.
Turcotte was praised by most people for his enterprising spirit, and he was applauded universally for his talents as a speaker. He has been compared to Danton; Benjamin Sulte* dubbed him a Mirabeau. "Although a plain member," Sulte said, "he was listened to as if he were a minister." In fact, he enjoyed more prestige than many politicians of that period: he was asked at least twice to hold a portfolio, first in April 1847 when the government considered assigning three portfolios to Lower Canadian members [see Caron*; Draper*], and in March 1864 when Étienne-Paschal Taché tried to form a coalition cabinet. In the 1850s, after the successive resignations of Robert Baldwin*, La Fontaine, and Morin, Turcotte stood out as a veteran mainstay of the Lower Canadian group in parliament. From March 1862 to May 1863 he held the position of speaker of the Legislative Assembly of United Canada. He died at Trois-Rivières on 20 Dec. 1864.
On 15 Nov. 1842 Joseph-Édouard Turcotte had married Flore Buteau, daughter of François Buteau of Quebec. Six daughters and four boys were born of their marriage; one son, Henri-René-Arthur, was to represent Trois-Rivières in the provincial parliament, and another, Gustave-Adolphe-Narcisse, represented Nicolet in the House of Commons.
AAQ, 12A, K, 99. AJTR, Cour du banc de la reine, 1838–39. ANQ-Q, État civil, Catholiques, Notre-Dame de Québec, 15 nov. 1842. ANQ-TR, État civil, Catholiques, Immaculée-Conception (Trois-Rivières), 23 déc. 1864. Archives de la ville de Trois-Rivières, Registres des délibérations du conseil, 6 sept., 3 nov. 1858; 8 juin, 9 sept. 1859. Archives judiciaires, Nicolet (Nicolet, Qué.), Registre d'état civil, Saint-Édouard (Gentilly), 1808. ASQ, Polygraphie, XXXVIII, 16f. ASTR, Archives du séminaire, M 1, F53; Trifluviens du 19e et du 20e siècle, C 3, M80A. Private archives, Mme Camille Marchildon-Carette (Trois-Rivières), généalogie des Turcotte. Le Canadien, 11 juill. 1834, 1er, 6 avril 1835, 28 juin 1837, 20 déc. 1841, janv.–août 1842. Le Courrier du Canada, 28, 30 déc. 1864. L'Écho du cabinet de lecture paroissial, 1er janv. 1865. L'Écho du St-Maurice (Trois-Rivières), 27 août, 22 oct. 1858. L'Ère nouvelle (Trois-Rivières), 1er mars, 11 oct. 1854, 30 août 1858. Le Journal de Québec, 26 oct. 1844, 22 déc. 1864. Journal des Trois-Rivières, 1847–1853. Le Libéral (Québec), 19 sept. 1837. La Minerve, 30 déc. 1833; 26 mai, 24 juill., 20 oct. 1834; 12 févr. 1835; 4 avril 1836; 8, 15 nov. 1847. L'Opinion publique, 11 déc. 1873. Quebec Gazette, 26 March 1835, 4 May 1842. La Voix du peuple (Québec), 20 janv. 1852. F.-J. Audet, Les députés de la région des Trois-Rivières (1841–1867) (Trois-Rivières, 1934), 26–41. Fauteux, Patriotes, 269. Political appointments, 1841–65 (J.-O. Coté), 5. Chapais, Hist. du Canada, VI, 11–13. Cornell, Alignment of political groups, 15–17, 39, 66, 68, 88. J.-A.-I. Douville, Histoire du collège-séminaire de Nicolet, 1803–1903, avec les listes complètes des directeurs, professeurs et élèves de l'institution (2v., Montréal, 1903), II, 23, 141. Antoine Gérin-Lajoie, Dix ans au Canada de 1840 à 1850: histoire de l'établissement du gouvernement responsable (Québec, 1888), 414–15, 469. Louisette Pothier, "Joseph-Édouard Turcotte; ses débuts politiques (1808–1840)" (thèse de ma, université de Sherbrooke, Sherbrooke, Qué., 1973). Le répertoire national, ou recueil de littérature canadienne, James Huston, édit. (4v., Montréal, 1848–50), I, 239, 241–330, 342. Louis Richard, Histoire du collège des Trois-Rivières; première période, de 1860 à 1874 (Trois-Rivières, 1885), app., 103–4. Benjamin Sulte, "Trois-Rivières d'autrefois," Mélanges historiques, Gérard Malchelosse, édit. (21v., Montréal, 1918–34), XX, 54. Albert Tessier, "Un chemin montant, malaisé . . . ," Cahiers des Dix, 20 (1955), 115.
© 1976–2023 University of Toronto/Université Laval
Image Gallery

Cite This Article
Louisette Pothier, "TURCOTTE, JOSEPH-ÉDOUARD," in Dictionary of Canadian Biography, vol. 9, University of Toronto/Université Laval, 2003–, accessed December 7, 2023, http://www.biographi.ca/en/bio/turcotte_joseph_edouard_9E.html.
The citation above shows the format for footnotes and endnotes according to the Chicago manual of style (16th edition). Information to be used in other citation formats:
| | |
| --- | --- |
| Permalink: | http://www.biographi.ca/en/bio/turcotte_joseph_edouard_9E.html |
| Author of Article: | Louisette Pothier |
| Title of Article: | TURCOTTE, JOSEPH-ÉDOUARD |
| Publication Name: | Dictionary of Canadian Biography, vol. 9 |
| Publisher: | University of Toronto/Université Laval |
| Year of publication: | 1976 |
| Year of revision: | 1976 |
| Access Date: | December 7, 2023 |