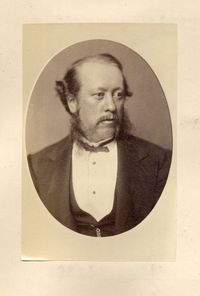 Source: Courtesy of Bibliothèque et Archives Nationales du Québec / 52327/1955930
CAMPBELL, FRANCIS WAYLAND, physician, educator, militia officer, and editor; b. 5 Nov. 1837 in Montreal, son of Rollo Campbell* and Elizabeth Steel; m. October 1861 Agnes Stuart Rodger of Greenock, Scotland, and they had two sons and one daughter; d. 4 May 1905 in Montreal.
Francis Wayland Campbell received his early education at Dutton's Academy and at the Canada Baptist College, both in Montreal. For six years, apparently from the age of 14, he worked for his father, publisher of the Pilot. In 1852 he started the Life Boat, a temperance monthly for young people, which he issued for over a year. He began medical studies at McGill College in December 1855 and graduated in 1860, whereupon he left for further study in Europe. In 1861 he earned the diploma of the Royal College of Physicians of London.
Following his return with his wife to Montreal, he set up a medical practice there in 1862. From 1868 he was an examiner for the New York Life Insurance Company and later he became chief medical officer for all of Canada. Around 1880 he would also become chief medical officer of the Citizens' Insurance Company of Canada.
Early in 1871 Campbell, with doctors Charles Smallwood*, William Hales Hingston, Aaron Hart David, and Edward H. Trenholme, established a new medical school in Montreal. They felt the need for another English-language school in order to break the monopoly held by the McGill College medical faculty and the Montreal General Hospital. They sought to provide medical education for students rejected by McGill (David especially wanted to see Jewish students accepted) and to promote the employment of non-McGill graduates in hospitals and other institutions. Although the school was to be based in Montreal, its founders immediately sought from Bishop's College in Lennoxville an affiliation which would assure it university status and degree-granting powers. The school became the medical faculty of Bishop's College and opened its doors on 4 Oct. 1871. Campbell was appointed secretary-treasurer, registrar, and professor of the institutes of medicine.
Campbell's early interest in journalism continued, and in 1862 he collected and forwarded the reports of Montreal hospitals to the British American Journal . . . (Montreal). In 1864 he and George Edgeworth Fenwick* became editors of the Canada Medical Journal and Monthly Record of Medical and Surgical Science (Montreal). "Personal differences," perhaps because they were loyal to opposing institutions, Campbell to Bishop's and Fenwick to McGill, led them to part company in 1872. Campbell then founded and edited the Canada Medical Record (Montreal) and used this journal to promote the Bishop's College medical faculty.
Campbell was on a committee of the faculty which arranged the transfer to Bishop's in 1876 of the Women's Hospital of Montreal, founded by Jean-Lukin Leprohon* and others. It became the first women's hospital in Quebec to be affiliated with a university and it provided clinical lectures and practical experience in obstetrics for Bishop's students. Campbell assisted at the out-patient clinic. Perhaps because of the financial obligations it had contracted during the transfer, the faculty hesitated to purchase the building which housed the medical school when its proprietor, Dr Robert T. Godfrey, announced later in 1876 that he wished to sell. Campbell purchased the building himself the next year. Although the faculty subsequently agreed to acquire the property, it never did so. In September 1879 it discussed renting Western Hospital of Montreal in order to provide larger facilities for the Women's Hospital, but again vacillated. Campbell once more stepped forward and personally made the decision and the financial commitment to rent the building. As chairman of the Women's Hospital committee during the 1890s, he oversaw the removal of the institution from Western to larger quarters in 1894 and again in 1899.
From age 19 Campbell had been involved in the militia. He served in the 1st Regiment of Volunteer Rifles at Hemmingford and Ormstown during the Fenian raids of 1866 and at Saint-Jean (Saint-Jean-sur-Richelieu) and Eccles Hill during the raids of 1870. In 1886 he was appointed surgeon-major in the Infantry School Corps. He was also involved in military journalism, establishing the V.R.I. Magazine in 1894. A member of the Montreal Military Institute, he presented lectures before the organization and was its honorary president for several years. When he retired from the militia in November 1898, he was awarded the honorary rank of surgeon lieutenant-colonel.
In 1880 Aaron Hart David, the first dean of the Bishop's College medical faculty, resigned because of ill health. Campbell acted for him until 1882 when, on David's death, he became dean. Beginning in 1880 he also taught the theory and practice of medicine. In June 1885 he was made assistant physician to the Montreal General Hospital. He thus became the first doctor attending at that hospital who was not a professor at McGill.
Under Campbell, Bishop's medical faculty became the first in Quebec to accept women students. They were admitted from 1890 until 1900, but were then turned away because Bishop's had not received the benefits from admitting women that it had expected. In addition, few hospitals were willing to allow women to complete the clinical work required for a licence.
As early as 1871 Bishop's had considered adding a dental department. In 1892, during Campbell's tenure, the department finally was set up, but it met with little success. The Dental College of the Province of Quebec and Bishop's medical faculty met in 1895 and the following year the dental college became affiliated with Bishop's medical faculty. The school operated in both English and French and accepted women students. It was the first in Quebec to offer the degree dds.
Campbell held various important posts and accumulated numerous honours during his lifetime. He was appointed a vice-president of the physiological section of the Centennial Medical Congress, held in Philadelphia in 1876. The following year he was named president of the Montreal Medico-Chirurgical Society, and in 1879 he became vice-president of the Canadian Medical Association. For over 10 years he was secretary of the College of Physicians and Surgeons of the Province of Quebec. He was also a master of the Victoria Lodge of freemasons. In 1895 Bishop's recognized his efforts on its behalf by awarding him an honorary dcl.
From 1901 onward Campbell experienced a series of difficulties: the Women's Hospital had financial problems; the medical faculty's building was no longer adequate; and the Canada Medical Record ceased publication in 1904 because of bankruptcy. A personal crisis followed. In May 1904 his son Dr Rollo Campbell died of typhoid. Sometime that year he sustained injuries when his carriage collided with an electric car on Rue Sainte-Catherine. He was said never to have fully recovered from this accident. By December 1904 it seemed apparent that Bishop's medical faculty was going to fail. Negotiations for an amalgamation with McGill began, and on 7 March 1905 an agreement was reached in Campbell's absence. Personal tragedy struck again in April, when Campbell's other son, Francis Wayland Jr, died, also of typhoid. One month later, Campbell himself died at age 67, probably a broken and disappointed man.
It is impossible to separate the life of Francis Wayland Campbell from the life of Bishop's College medical faculty, for he was a mainstay of the institution from its conception. A portrait and a plaque dedicated to him are located at Bishop's University, Lennoxville.
Francis Wayland Campbell is the author of Introductory lecture, delivered at the opening of the second session of the medical faculty of the University of Bishop's College, October 2nd, 1872 (Montreal, 1872); "War"; a lecture delivered at the Montreal Military Institute, April 18, 1896 (n.p., 1896); The war of 1812–13–14 between Great Britain and the United States; a lecture delivered at the Montreal Military Institute and before the Numismatic and Antiquarian Society of Montreal in February 1899 (Montreal, 1899); History of the formation of the medical faculty, University of Bishop's College in Montreal (Waterville, Que., 1900); and The Fenian invasions of Canada of 1866 and 1870 and the operations of the Montreal militia brigade in connection therewith; a lecture delivered before the Montreal Military Institute, April 23rd, 1898 (Montreal, 1904).
AC, Montréal, État civil, Presbytériens, St Paul's (Montreal), 4 May 1905. Bishop's Univ., Arch. and Special Coll. (Lennoxville, Que.), Minutes of the medical faculty, 1871–1905. MUA, RG 38, c.11–c.12. Gazette (Montreal), 5, 8 May 1894. Atherton, Montreal. Canada Medical Record (Montreal), 1 (1872)–32 (1904). Canadian men and women of the time (Morgan; 1898). Cyclopædia of Canadian biog. (Rose and Charlesworth). E. H. Milner, Bishop's medical faculty, Montreal, 1871–1905, including the affiliated dental college, 1896–1905 (Sherbrooke, Que., 1985). Montreal Medical Journal, 34 (1905): 361. Physicians and surgeons of America; a collection of biographical sketches of the regular medical profession, comp. and ed. I. A. Watson (Concord, N.H., 1896). Univ. of Bishop's College, Annual announcement of the faculty of medicine, Montreal (Montreal), 1896–97.
© 1994–2023 University of Toronto/Université Laval
Image Gallery

Cite This Article
Elizabeth Hearn Milner, "CAMPBELL, FRANCIS WAYLAND," in Dictionary of Canadian Biography, vol. 13, University of Toronto/Université Laval, 2003–, accessed September 22, 2023, http://www.biographi.ca/en/bio/campbell_francis_wayland_13E.html.
The citation above shows the format for footnotes and endnotes according to the Chicago manual of style (16th edition). Information to be used in other citation formats:
| | |
| --- | --- |
| Permalink: | http://www.biographi.ca/en/bio/campbell_francis_wayland_13E.html |
| Author of Article: | Elizabeth Hearn Milner |
| Title of Article: | CAMPBELL, FRANCIS WAYLAND |
| Publication Name: | Dictionary of Canadian Biography, vol. 13 |
| Publisher: | University of Toronto/Université Laval |
| Year of publication: | 1994 |
| Year of revision: | 1994 |
| Access Date: | September 22, 2023 |