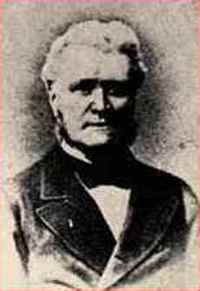 Source: Courtesy of Wikimedia Commons
OSTELL, JOHN, surveyor, office holder, architect, and businessman; b. 7 Aug. 1813 in London, England, son of Isaac Ostell, a saddler, and Charlotte —; d. 6 April 1892 in Montreal.
Trained as an architect and surveyor in England, John Ostell had immigrated to Montreal by 1834. On 17 July he apprenticed himself for one year to the surveyor André Trudeau, who, no doubt, acquainted him with the French method of surveying. At work professionally by January 1835, Ostell was the city surveyor by the early 1840s and in 1840–41 drew up the first comprehensive city plan of Montreal. He was the provincial surveyor in 1848, and three years later he was appointed to the Board of Examiners of Land Surveyors for Lower Canada.
Meanwhile, Ostell's private practice flourished. In 1842, for example, he subdivided the large villa property of businessman John Redpath*. From the early 1840s he was the preferred surveyor of the influential Séminaire de Saint-Sulpice, for which he provided a variety of services including representation in disputed cases relating to the commutation of land tenure. He subdivided the seminary's lands along the Lachine Canal in the period 1842 to 1845, creating more than 500 town lots. In 1854 he planned the Côte-des-Neiges cemetery.
Ostell's business as a surveyor went hand in hand with a successful architectural practice. Thanks to a remarkable versatility, his reputation was quickly established among all types of clients, civil, ecclesiastical, and private. Between 1836 and 1856 his civil commissions included the custom-house on Place Royale (1836), the McGill College arts building (1839–43), the McGill Normal School (1845), the Protestant Orphan Asylum of the City of Montreal (1848–49), a wing and alterations to the Montreal prison (1851), the toll-collector's office on the Lachine Canal (1851), and the Montreal court-house (1850–56). For commissions such as these he generally relied on the classicizing vocabulary of James Gibbs, the designer of St Martin-in-the-Fields, London, where Ostell had been baptized. In the courthouse, his last major civil commission, he reveals the influence of the English architect Sir Robert Smirke.
Although he was an Anglican, Ostell's ecclesiastical commissions came largely from the Sulpicians and Roman Catholic bishop Ignace Bourget*. Most were in or near Montreal and included the towers of the church of Notre-Dame (1841 and 1843) from the elevations of James O'Donnell*, the Asile de la Providence (1842), the episcopal palace (1849–51), which was destroyed by fire eight months after completion, the east wing of the old Séminaire de Saint-Sulpice on Place d'Armes (1849), the church of the Visitation-de-la-Bienheureuse-Vierge-Marie at Sault-au-Récollet (1850–51), the church of Notre-Dame-de-Grâce (1850–51), St Ann's Church at Griffintown (1851–54), the Grand Séminaire de Montréal (1855–1864), and the cathedral of Saint-Jacques (1857), razed by fire six months after its consecration. In 1849 he submitted designs for St James' (Anglican) Cathedral, Toronto, but he placed second to Frederic William Cumberland* in the competition. For ecclesiastical commissions he worked in either the neo-baroque or the neo-Gothic style. Seventeenth-century Italian elements are apparent in the façade of the church of the Visitation-de-la-Bienheureuse-Vierge-Marie and of Notre-Dame-de-Grâce, and he selected Early English Gothic for the submission on St James' Cathedral, which the judges deemed a "very good design."
In the course of his practice Ostell also designed private residences in Montreal such as a house for James Millar* (1836) and another for Mary Anne Merry (1856). As well he was the architect of an addition to John Torrance*'s mansion in 1839. Although he had built a small store for Harrison Stephens* in 1836, his major commercial and industrial commissions – the hardware store of Frothingham and Workman [see Thomas Workman*] and the sugar refinery of John Redpath – came much later, in 1854, at a time when he himself had become heavily engaged in business.
In all, between 1836 and 1856 Ostell designed more than two dozen buildings, making him the foremost English-speaking architect in Montreal. His reputation was well earned. Before embarking on a major project, Ostell researched structures of a similar type elsewhere, largely in the United States. He travelled there in 1851 to study the state prison at Charlestown (Boston), Mass., and, he wrote, "many other similar institutions." With reference to a proposed lunatic asylum, he indicated that he had "a vast amount of information and detail, obtained at very considerable expense by personal examination in the States." As a result of such efforts his buildings were widely praised by his contemporaries. John Gardner Dillman Engleheart, the private secretary of the touring Duke of Newcastle, called several of them "tasteful," and Johann Georg Kohl, a German visitor, compared the court-house to "a Greek temple, only larger and more massive." Some critics termed the court-house "insalubrious," but Frederick Preston Rubidge, who represented Ostell's client, the Department of Public Works, declared in 1856 that there was "no provincial building to compare with it at the present time."
From the beginning Ostell's surveying and architectural work had brought him into contact with businessmen and with commercial or industrial projects in Montreal. He and Albert Furniss had constructed a pioneering gasworks in the city from 1836 to 1838; by November 1837 it was supplying lamps in some stores and in 1838 efforts were made to light a few streets with gas lamps. Ostell soon retired from this company, but in 1850 he became a director of the New City Gas Company of Montreal, of which he was president from 1860 to 1865. Meanwhile, in 1845, the Séminaire de Saint-Sulpice had auctioned its surveyed lots along the Lachine Canal, and Ostell, seeing that the market was sluggish, had been one of the largest purchasers with an investment of £3,650. From 1851 to 1857 he, John Young*, Jacob De Witt*, and the miller Ira Gould, operating together as the St Gabriel Hydraulic Company, paid bargain prices for lots of surveyed seminary lands near the St Gabriel lock, which they bought up for purposes of industrial land speculation and development.
Ostell was also involved in the lumber business. He had opened a lumber yard in 1848, and he was, no doubt, a partner in McArthur and Ostell, which displayed furniture and wood products at the Provincial Exhibition of 1853. The previous year he had opened a sawmill and a factory at the St Gabriel lock, producing sashes, doors, windows, and joiners' finishings. The factory prospered until the passage of the Reciprocity Treaty of 1854 robbed it of an extensive American market; however, the treaty favoured the export of unmanufactured wood products from the sawmill. In an effort to find new markets for the factory, Ostell sent its products to the universal exposition in Paris in 1856. The business owned several buildings and five acres of land in 1856; 75 men manufactured products worth £18,750, but the market was limited largely to Lower and Upper Canada, with a small quantity of exports going to the United States, Australia, and Britain. Probably as a result of declining fortunes, Ostell sold the sawmill in 1862. The following year he seems to have gone into bankruptcy, and in 1864 his hydraulic properties were sold to William Molson*, but he was able to rent back the factory. Although he recovered, his production stagnated over the next 20 years; nevertheless, in 1886 his factory was described as "among the large and important manufacturing and business industries in Montreal."
During the 1850s Ostell had been drawn into the railway boom. He was involved with William Molson, among others, in the Montreal and Champlain Railroad, founded in the early 1850s, of which he was president from 1859 to 1865, in the Montreal and New York Railroad, established in 1857, and in the Carillon and Grenville Railway Company, reincorporated two years later. In 1861 he, Molson, and others founded the Montreal Railway Terminus Company, a horse-drawn tram service that was an immediate success. In addition to his other activities Ostell was a director of the Royal Insurance Company.
Ostell's prominence as a professional man had led him to participate to some extent in the public life of the city. He was among the incorporators of the mechanics' institute in 1845, and the same year he became a member of the council of the Natural History Society of Montreal. His growing association with the business community no doubt accounts for his active role a few years later, as treasurer of the Montreal Annexation Association, in the movement for annexation to the United States [see James Bruce*]. His membership in the St James Club of Montreal, probably from its beginnings in 1857, confirms his acceptance by that time among the city's business élite.
On 8 Jan. 1837 Ostell had married Élisabeth-Éléonore Gauvin, sister of Dr Henri-Alphonse Gauvin, a leader in the rebellion of 1837. Although Ostell was Anglican, the marriage took place in a Catholic church; it was contracted under the joint-estate system common in French Canada, except for debts which remained a separate responsibility as was the rule in British marriages and in marriages involving business people. The couple had at least eight children. A nephew, Henri-Maurice Perrault, went into architectural practice with Ostell in 1850. By the late 1880s Ostell was a widower, living alone. On 24 Nov. 1891 he converted to Catholicism, and on 6 April 1892 he died at age 78. He was buried beside his wife on a 300-foot lot purchased in 1854 in the Côte-des-Neiges cemetery. Obituaries appeared in the city's major newspapers, and La Patrie observed that "his decease constitutes the disappearance of an important figure in our social and political world."
One of the first and most important English-speaking architects in Montreal, John Ostell is an exemplar of the pioneering individuals who transformed the city from the struggling colonial town of the 1830s into the metropolis of a new country. The buildings Ostell designed proudly celebrate the flowering of a monumental architecture that reflected Montreal's changing status.
ANQ-M, CE1-51, 9 avril 1892; CN1-7, 14 juin 1836; CN1-32, 28 nov. 1850, 7 mars 1851; CN1-56, 6 janv. 1837; CN1-135, 30 oct. 1839; CN1-175, 13 nov. 1835, 22 mars 1836; CN1-187, 17 déc. 1829, 26 févr. 1836, 8 mars 1839; CN1-227, 2 déc. 1891; CN1-385, 17 juill. 1834; P1000-44-884. ASQ, Polygraphie, VI: 82. ASSM, Gestion, Arpenteurs, Ostell, 1840–48; Perrault, 1862–79; Notaires, Le Maire (Oka), 1849–79; Parent (Québec), 1826–47. McGill Univ. Arch., Acc.221, no.5; RG4, c.1–c.18; c.437. NA, RG 11, Al, 16, no.14689; 17, no.16177; 18–19; 20, nos.20628, 21939; 21–24; 25, no.29477a; 26, no.30023; 65, no.15399; RG 68, General index, 1841–67: 21. Redpath Sugar Museum (Toronto), Mason's specifications, Redpath House, 14 Jan. 1854. Westminster City Libraries, Victoria Library, Arch. Dept. (London), Reg. of baptisms, St Martin-in-the-Fields, 5 Sept. 1813. "The annexation movement, 1849–50," ed. A. G. Penny, CHR, 5 (1924): 236–61. Can., Prov. of, Statutes, 1859, c.96; 1861, c.84. J. G. D. Engleheart, Journal of the progress of H.R.H. the Prince of Wales through British North America; and his visit to the United States, 10th July to 15th November 1860 ([London, 1860]). J. G. Kohl, Travels in Canada, and through the states of New York and Pennsylvania, trans. Mrs Percy Sinnett (2v., London, 1861). L.C., House of Assembly, Journaux, 1835–36: 244, 246, 436–37. Gazette (Montreal), 12 Nov. 1835, 17 Sept. 1839, 14 July 1845, 7 April 1892. Globe, 13 Oct. 1849. La Minerve, 28 févr. 1848. Montreal Daily Star, 7 April 1892. La Patrie, 7 avril 1892. Montreal almanack, 1845: 87; 1850: 30; 1860: 92. Atherton, Montreal, 2: 630. Frost, McGill Univ. Industries of Canada, city of Montreal, historical and descriptive review, leading firms and moneyed institutions (Montreal, 1886). J-C. Marsan, Montréal en évolution: historique du développement de l'architecture et de l'environnement montréalais (Montréal, 1974). [J.-L.-]O. Maurault, Marges d'histoire; l'art au Canada ([Montréal], 1929), 213–16; La paroisse: histoire de l' église Notre-Dame de Montréal (Montréal et New York, 1929); Saint-Jacques de Montréal: l'église, la paroisse (Montréal, 1923). Montreal in 1856: a sketch prepared for the celebration of the opening of the Grand Trunk Railway of Canada (Montreal, 1856). Luc Noppen, Les églises du Québec (1600–1850) (Québec, 1977). P-G. Roy, Les petites choses de notre histoire (7 sér., Lévis, Qué., 1919–44), 5: 283. F. [K. B. S.] Toker, The church of Notre-Dame in Montreal; an architectural history (Montreal and London, Ont., 1970). Ramsay Traquair, The Church of the Visitation (Montreal, 1927). Tulchinsky, River barons. B. [J.] Young, In its corporate capacity; the Seminary of Montreal as a business institution, 1816–1876 (Kingston, Ont., and Montreal, 1986). John Bland, "Deux architectes du XIXe siècle," Architecture, Bâtiment, Construction (Montréal), 8 (juillet 1953): 8, 20. Alan Gowans, "The baroque revival in Quebec," Soc. of Architectural Historians, Journal (Charlottesville, Va.), 14 (October 1955): 8–14. Maréchal Nantel, "Le Palais de Justice de Montréal et ses abords," Cahiers des Dix, 12 (1947), 197–230.
© 1990–2023 University of Toronto/Université Laval
Image Gallery

Cite This Article
Ellen James, "OSTELL, JOHN," in Dictionary of Canadian Biography, vol. 12, University of Toronto/Université Laval, 2003–, accessed October 1, 2023, http://www.biographi.ca/en/bio/ostell_john_12E.html.
The citation above shows the format for footnotes and endnotes according to the Chicago manual of style (16th edition). Information to be used in other citation formats:
| | |
| --- | --- |
| Permalink: | http://www.biographi.ca/en/bio/ostell_john_12E.html |
| Author of Article: | Ellen James |
| Title of Article: | OSTELL, JOHN |
| Publication Name: | Dictionary of Canadian Biography, vol. 12 |
| Publisher: | University of Toronto/Université Laval |
| Year of publication: | 1990 |
| Year of revision: | 1990 |
| Access Date: | October 1, 2023 |