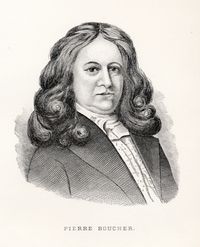 Source: Courtesy of Bibliothèque et Archives Nationales du Québec / 52327/1956765
BOUCHER, PIERRE, interpreter, soldier, governor of Trois-Rivières, royal judge, founder and seigneur of Boucherville; baptized 1 Aug. 1622 at Mortagne, in Perche (Orne, France), son of Gaspard Boucher and Nicole Lemer (Lemaire); d. 19 April 1717 at Boucherville and was buried in the parish church two days later.
In answer to the appeal of his fellow-countryman Robert Giffard* to settle in Canada, Gaspard Boucher sold his farm at Mortagne on 1 Feb. 1634. We have no written undertaking on Gaspard Boucher's part towards Robert Giffard, but it is possible that Gaspard was one of a group who sailed for New France later that year. Some historians have expressed the opinion that on this first voyage he brought his wife, Nicole Lemer, and his children: Pierre, the eldest, Nicolas, Marie, and Marguerite, who had all been baptized at Mortagne; we do not know where his youngest daughter Madeleine was born, perhaps on the way over. Alfred Cambray, who supports the idea that the family arrived in 1634, thinks that they were on a ship commanded by a Captain de Ville, which may also have carried Abbé Jean Le Sueur* and Jean Bourdon*. On the other hand, Madame Pierre Montagne states that these last two passengers accompanied Robert Giffard and his family on a ship commanded by a Captain de Nesle. Madame Montagne also hints vaguely that the Boucher family was part of this group in 1634.
In a report drafted in 1695 Pierre Boucher stated that he had been brought to Canada in 1635 at the age of 13. If Gaspard Boucher came over in 1634, he may have returned the following year to fetch his family and his belongings; it was during a voyage in this year that he is thought to have had an altercation with his compatriot Thomas Giroux. The document that records this incident, drawn up by notary Guillaume Tronquet on 12 Sept. 1638, specifies that Boucher and his family made the crossing on a ship commanded by Captain de Ville. Now the four ships that sailed in 1634 were commanded by Du Plessis-Bochart*, Nesle, Bontemps, and Lormel. Captain de Ville, however, may have commanded one of the "eight large ships" mentioned in the 1635 Jesuit Relation under the date of 4 July, six of which anchored at Tadoussac before proceeding to Quebec.
Gaspard Boucher, a carpenter by profession, was hired by the Jesuits to work on their farm at Notre-Dame-des-Anges. It has been affirmed that the religious took over the children's education, and in particular that of Pierre. However, in the documents concerning them, the latter's sisters stated that they could neither write nor sign their names. Pierre studied with the Jesuits, primarily during his stay in Huronia, where he went in 1637 and where he remained until 1641 as an assistant to the missionaries. During these four years he shared the life of the Huron (Wendat), observed their customs, and learned their dialects. On 11 April 1640, at Téanaostaiaé (St Joseph II), he was seriously wounded during an uprising by the Huron, when Fathers Brébeuf* and Chaumonot* were severely beaten and threatened with burning at the stake.
As soon as the young man returned to Quebec, Governor Huault* de Montmagny took him into his service as a soldier, but especially as an interpreter and agent to the First Nations. In this capacity he took part in all the government parleys with Indigenous leaders and acquired valuable experience that was to stand him in good stead all his life. He went everywhere with the governor, who obtained rapid promotion for him. From private he became corporal, and shortly afterwards sergeant. He is known to have been at Ville-Marie when the post was established on 18 May 1642. On 20 August, at the mouth of the Richelieu, he took part in the battle that the small French force was compelled to fight with the Iroquois (Haudenosaunee). Boucher admired greatly "the courage and gallant bearing" of the governor, as well as the latter's skilful diplomacy during the peace negotiations. In 1644 Boucher was appointed official interpreter and clerk at the fort of Trois-Rivières, and quickly made himself indispensable. He played an active role, particularly on the occasion of the important discussions in 1645 in which the Mohawk chief Kiotseaeton* was the dominant figure. It was Pierre Boucher, accompanied by his brother-in-law Toussaint Toupin and a Mohawk, who, on 23 Jan. 1646, brought to Quebec [see Kiotseaeton] the letters which refuted the false allegations made by the Huron Tandihetsi concerning the treaty just concluded. On 14 February Boucher returned to Trois-Rivières with the Huron who had carried to Quebec the news of Father Anne de Nouë*'s death. Boucher was by then the key figure in the little town of Trois-Rivières.
Pierre Boucher's parents came to settle at Trois-Rivières soon after his appointment. The first mention of Gaspard's presence there is on 21 March 1646, when the governor gave him a land grant of 24 acres situated between the properties owned by Jean-Paul Godefroy* and by Étienne de La Fond. On 30 Jan. 1645, at Quebec, the latter had married Pierre Boucher's sister Marie. It is surprising that no trace is to be found anywhere of the last years and death of Gaspard Boucher and his wife and Pierre Boucher himself never alludes to these details. On 19 June 1652 Nicole Lemer is referred to as being a godmother at Trois-Rivières; there is no further mention of her. As for Gaspard, it has been asserted that he died in a fire that destroyed his house; this is based on a somewhat ambiguous statement made by his daughter Madeleine, who on 27 June 1668 affirmed that the title to the land grant of 1646 "has been burned with the said Gaspard Boucher's house, in which it [he?] was . . ." Whether she is talking about the title or the owner himself we do not know, although if it had been the latter the Relations or the parish register would have mentioned it. The last reference to Gaspard Boucher is on 20 May 1662, when he brought an action against Jacques Besnard. At that time Pierre Boucher was in France.
From 1645 on, Pierre Boucher lived permanently in the little town of Trois-Rivières. He took part in the defence of the fort, which was exposed to Iroquois attacks. In 1646 he went with his fellow-citizens, most of them militiamen, to the Rivière Puante (Bécancour), where the presence of hostile Iroquois had been detected. "We lost some men," he wrote later, "the enemy having withdrawn without loss because of the poor leadership of our commanders." From then on his character as a leader, sharpened by the uninterrupted state of war, began to take shape. In 1648 and 1649 the little French colony on the banks of the St Lawrence was more than ever threatened with annihilation. Ville-Marie was no longer a sure outpost; the French could count only on the town of Trois-Rivières "to stop the enemy from throwing himself upon a defenceless Quebec, the capture of which would spell the ruin of the country." The governor of Trois-Rivières in those unhappy years was Jacques Leneuf* de La Poterie, who was more of a businessman than a soldier and who was, moreover, often absent. Louis d'Ailleboust* had just replaced Montmagny as governor, and a rapid visit to Trois-Rivières convinced him that Pierre Boucher was the real leader of the community. The governor appointed him "captain of the town" and they had important discussions, an outcome of which was that Boucher was asked to prepare a plan of defence; the implementation of this plan was later to be the subject of an official ordinance.
Pierre Boucher's idea was to bring about as soon as possible a radical transformation of the settlers' buildings, until then placed at random, "some here, some there, according to the desire and convenience of each person," to quote the author of the Relation. Indeed, a reconstituted plan of the period's land grants of the period shows that they covered approximately the area of the present lower town. This scattered population was too easy a target for Iroquois attacks. Boucher's suggestion, which the ordinance authorized him to carry out, was that the farms should be concentrated and the families enclosed within an enceinte of solid stockades; over these, guard-houses, which the governor had recommended should be set up, would keep a continuous watch. Each settler was to help in building the enceinte, practise handling weapons, and take his turn to stand watch. Some, on various pretexts, tried to evade the orders. But the captain was relentless. Each man had to contribute his hours of corvée and all families had to resign themselves to living within the stockade. This initiative represents the first serious effort to organize the defence of the little town by its own settlers.
On 6 June 1651 Pierre Boucher was confirmed in his post of captain of the town. Du Plessis-Kerbodot [Guillemot*] was its acting governor and also commander of the flying column. The recent attacks, the corpses of settlers found each day in their fields, and especially the deaths of four inhabitants of Cap-de-la-Madeleine, among them the notary Florent Boujonnier, revolted the governor and he decided to launch a massive sortie to eliminate the Iroquois threat. Fearing a reverse, Captain Boucher was opposed, and he himself remained inside the fort with a few able-bodied men. This conflict of authority was to be resolved by the carnage of 19 Aug. 1652, when 22 settlers and soldiers, including the governor, were killed in the woods around the town.
As a result of this defeat, the settlers thought that the situation was hopeless. The majority of family heads had perished. Of the first 40 settlers of Trois-Rivières fewer than 10 remained. The whole colony, especially the population of Quebec, was at bay. The authorities wondered whether they would not be forced to leave the country. Panic spread even to those who had put their trust in providence. Mother Catherine de Saint-Augustin [Simon*], speaking in the name of her community, wrote: "We are not hastening to complete the rest of our buildings because of our uncertainty as to whether we shall stay here long." Marie de l'Incarnation [Guyart*] was still more explicit: "Plans are being made to leave everything," she wrote, "and to bring ships from France to save those who escape falling into the hands of our enemies." Pierre Boucher himself echoed this possibility. An ordinance that he issued on 10 Aug. 1653 contains these lines: "Despite the uncertainty of the times caused by the enemy, being in doubt as to whether we must vacate the country or not. . . ." However, he himself refused to despair, and he was soon to have the opportunity to try out his system of defence, which was all the easier because he received a commission as acting governor in Leneuf's absence.
On 23 Aug. 1653, one year after the deaths of Du Plessis-Kerbodot and his men, a force of 600 Iroquois, divided into three bands, encircled the post of Trois-Rivières. They employed their usual tactics: carrying off the animals and burning the crops and the buildings outside the fort. Then they attacked the fort itself, where Pierre Boucher was mounting guard with the 40 or so able-bodied men, most of them adolescents and the elderly, at his disposal. The defenders exercised unremitting vigilance, and each assault by the enemy was energetically repulsed. Consequently after nine days of siege the Iroquois, despairing of gaining possession of the fort, asked for peace negotiations. Fearing a trap, the governor went outside the fort alone, both to avoid exposing his militiamen to a surprise attack and to keep concealed the weakness of his forces. We do not know the arguments that the shrewd commander may have used to induce the enemy chiefs to accept his own conditions. He wrote later: "The peace was concluded on the conditions that they would hand over to me all the prisoners they had in their army, whether they were French or Indian, that they would go and get those whom they were holding in their villages and bring them back within 40 days, and that the most important among the Iroquois nations would come with presents to Quebec to seek peace from our governor M. de Lauzon, and to conclude it. This was carried out in every particular. And when they went away, they left me six of their children as hostages." When he learned of this unhoped-for victory, Governor Jean de Lauson* said to Pierre Boucher: "It was fortunate that you held your post so well. For if the enemy had taken Trois-Rivières, the whole country would have been lost." The writer of that year's Relation hastened to note: "This event was so sudden, this change in barbarian minds so surprising, that one must admit that a spirit superior to that of human beings guided this task."
It was not until after this exploit, however, that Boucher officially received the title of commander of the fort which he had just saved. Lauson's ordinance bears the date of 23 August, the first day of the Iroquois' attack, but the report sent by Boucher to the governor expressly mentions that his appointment was subsequent to the event, and that it was granted to him as a reward for his success on that occasion. Likewise his appointment as governor, which was dated 1 Oct. 1654 and bore the mention of "titular governor," was accorded to him after he had actually assumed the office. Meanwhile he had been entrusted with other responsibilities. From 1651 on he had been "churchwarden in charge of charitable activities in the parish." On various occasions he performed the duties of civil and criminal judge, which obliged him to give rulings on disputes between neighbours, cheating at cards, and petty thefts. His unruffled outlook on life enabled him to realize that successive trials had not made his fellow-citizens any wiser. Trading in spirits became once more the major activity of the settlers, who abandoned their families and went off on business again. In short, the little town of Trois-Rivières was far from being the place where Boucher's dream of establishing a seigneury in keeping with his ideas could be made a reality.
In 1657, even though his fellow-townsmen had just elected him "king's councillor in the council established at Quebec," he requested permission from the governor to give up his official functions and to retire to what he called "his property." He did in fact own some land grants in the region. He chose that of Sainte-Marie, at Cap-de-la-Madeleine, a domain of 200 acres. We realize, when we read the minutes of the notaries of the period, and particularly those of Claude Herlin, how much importance Pierre Boucher attached to the protection of the settlers who agreed to become his copyholders. Reference is continually made in these minutes to redoubts, bastions, and stockades. Boucher continued to protect his fellow-countrymen, even despite themselves, for the danger of Iroquois attacks still existed, especially in 1658 and 1659. The settlers of Cap-de-la-Madeleine were spared, and on 27 April 1660 the superior of the missions, Father Jérôme Lalemant*, pointed out "the heavy expenditures made by the Sieur Boucher to support all Cap-de-la-Madeleine against the Iroquois, and the expenditures that he made to set himself up there."
On his arrival at Quebec on 31 Aug. 1661, Governor Dubois* Davaugour was not slow to realize the deplorable state of the colony. He swiftly took two important decisions: he placed a Jesuit, Father Ragueneau*, "at the head of a general council for the service of the king and the welfare of the country"; then he proposed to send a delegate familiar with the country to the young king, Louis XIV, to plead the colony's cause. The governor could not choose this special envoy himself, for he had just arrived. Although the historian Benjamin Sulte* has advanced a contrary hypothesis, it was by common agreement with the Jesuits and the colony's notables that the governor named Pierre Boucher, to whom he had just brought letters of nobility obtained by Lauson on his return to Paris. Indeed, Boucher knew the colony better than anyone. He had brilliant feats of arms to his credit. He had lived in close association with the governors, which had permitted him to acquire a certain distinction of manner and bearing. Furthermore, Davaugour gave him, as Boucher has noted himself, a "Memorandum of instructions concerning the manner in which I was to behave and to whom I was to address myself, which I followed exactly."
Pierre Boucher sailed for Paris on 22 October, bearing dispatches from the governor, one of which was an important letter addressed to the Prince de Condé. He also brought letters from the Jesuits in Canada to their house in Paris, the procurator of which was his old friend Father Paul Le Jeune*, who undoubtedly made his mission easier for him. We can accept, with Father Léon Pouliot, that Father Le Jeune's Épître au Roi, which introduces the Relation of 1661, and which received the imprimatur on 20 Jan. 1662, was inspired by Pierre Boucher's presence in Paris, and was intended to support the arguments of the novice delegate. The lines that Boucher devotes to the royal audience in his "Mémoire" of 1695 are restrained: "I had the honour of speaking to the king, who questioned me about the state of the country, of which I gave him an accurate account, and His Majesty promised me that he would help the country and take it under his protection; which he has done." Boucher also had interviews with various persons of the court, including the Prince de Condé and Colbert; the latter asked him for a written report on the resources of this country and the reasons for keeping it for France.
When he sailed again from La Rochelle on 17 July 1662, Boucher could count on the two ships, the 100 soldiers, the provisions, and the munitions promised by the king. He had himself recruited "a hundred working men," having borrowed money to pay for their crossing. The return journey was long and arduous; the Aigle d'or and the Saint-Jean-Baptiste ran into fierce storms. Some 60 men, "both soldiers and workmen," died at sea. The rumour spread that these people had died of the plague, which was false, but for a long time Boucher had to house his recruits himself. He made his report to Davaugour, who handed over to him his commission as governor of Trois-Rivières.
The success of Pierre Boucher's mission marks a turning point in the history of New France. His presence among the most influential persons of the kingdom aroused much curiosity and sympathy for his country. His report, to the writing of which he applied himself on his return, increased interest in New France. It was intelligent, sincere, rational propaganda, which reinforced on the human and economic level what was already known of this country through the Relations des Jésuites. The happiest outcome of this little work was the sending of the troops of the Carignan regiment and the coming of the Marquis de Tracy [Prouville*] and Intendant Talon*. At last France was taking the fate of its distant colony seriously.
The new governor, Saffray* de Mézy, confirmed Boucher in his post of governor. Almost at the same time, on 17 Nov. 1663, the Conseil Souverain conferred on him the office of royal judge, a position that he gave up the following year in favour of Michel Leneuf*. He had become the dominant figure in the colony, and successive governors and military leaders, as soon as they arrived, sought his opinions and his advice. The Marquis de Tracy in particular, whom he accompanied at the time of the well-known 1666 expedition against the Mohawk, showed high esteem for him. But this man, who enjoyed so many honours and was favoured with the confidence of everyone, lofty or lowly, was not satisfied. This country, which was continually in a state of war, should be a country at peace. He wanted to set the example himself, and had, moreover, been thinking of it for a long time. In 1667, while he was still governor of Trois-Rivières and seigneur of Sainte-Marie, he took a far-reaching decision which he persuaded the governor, Rémy* de Courcelle, and the viceroy, the Marquis de Tracy, to accept. He proposed to go and settle in the wilderness, on his seigneury of Îles Percées, later called Boucherville. He had just married his eldest daughter, Marie, to the brave officer René Gaultier* de Varennes, to whom, with the agreement of the authorities, he entrusted his post as governor. Boucher enumerated the reasons for this decision in a document which has come down to us and which shows his greatness of mind and his strongly developed social sense. In it is discernible the disappointment that he felt when he saw his fellow-countrymen, for whom he had many times risked his life and of whom some were related to him, leading a life which did not conform to the ideal that he had set for himself. Indeed, Boucher's mother-in-law, Jeanne Énard, widow of Christophe Crevier, and his two brothers-in-law were deeply incriminated in the inquiries of the Conseil Souverain into the liquor trade, and the man who replaced him as judge, Michel Leneuf, was not equal to his task. These incidents were doubtless the reason for his decision to have "a place in this country where honest people may live in peace."
He was 45 years old, and thus began the last, the longest, and the most peaceful stage in his career. Henceforth he would devote himself to the realization of his most cherished dream: to develop a seigneury according to his own conception, with settlers judiciously chosen and ready to accept a flexible discipline. On 4 April 1673 he assembled at the seigneurial manor-house the 37 copyholders who had proved their worth, and handed them the titles to their land grants. The seigneurial dues were trifling; just what was required to meet communal needs, for he farmed his lands himself. Peace and mutual help attended the growth of the seigneury. Children were born, and the Bouchers set the example. In the parish register, Jeanne Boucher heads the list of baptisms.
In less than 15 years Boucherville became the ideal seigneury. It conformed in all particulars to the plan which Boucher had himself elaborated in his report to Colbert. The 1681 census lists the settlers, their families, their trades, the number of acres being farmed. The seigneur himself had 100 acres under cultivation: he was not listed as having any servants, for his sons were old enough to work. This perfect organization commanded the attention of the authorities and of travellers. This seigneury "is one of the finest and richest properties in the colony," remarked the intendant, Bochart de Champigny; and according to Gédéon de Catalogne its settlers "are the most prosperous in the government of Montreal."
Like Champlain* and Talon, Pierre Boucher believed in the possibility of creating a new people by the union of French men and Indigenous women. He gave the example himself by marrying, in 1649, a Huron pupil of the Ursulines of Quebec, Marie Ouebadinskoue, also called Marie-Madeleine Chrestienne. The young woman died in December of the same year while giving birth to a child, who did not live. Boucher next married, on 9 July 1652 in the parish of Notre-Dame de Québec, Jeanne Crevier, a fellow-countrywoman who was the daughter of Christophe Crevier and had come from Rouen with her parents. Fifteen children were born of this marriage. The sons adopted various names, chosen for the most part by Pierre Boucher himself and inspired by his native Perche. They formed the Montarville, Montbrun, Grosbois, Grandpré, Montizambert, La Bruère, La Perrière, and Boucherville families. The daughters married into the Gaultier de Varennes, Legardeur, Daneau de Muy, and Sabrevois de Bleury families. By the interplay of marriages, the Montizambert branch became English and Protestant after the cession of 1763. Another line, the Montbruns, went to the Illinois country and gained renown in the fields of politics, the army, and medicine. Others settled in Mauritius, the West Indies, Louisiana, and France.
Pierre Boucher's descendants are certainly among the most numerous left by the emigrants who came to settle in New France in the 17th century. This makes still more accurate the appreciation which Brisay de Denonville sent in 1686 to Seignelay, the minister of Marine and Colbert's son: "It is the family that has worked the hardest for the good of the colony, having neglected nothing of what is required to further it. The father was one of the first founders of the colony under M. d'Avaugour. Held in esteem by His Excellency your late father, he was for a long time governor of Trois-Rivières. His seigneury is one of the finest in this country."
During his old age, Pierre Boucher wrote his "Mémoires," a chronological succession of the events in which he had been involved. It is a kind of record book, a series of notes which, although somewhat sketchy and unpretentious, are filled with an abundance of small details that are not unimportant for a better knowledge of his period. The deep meaning that this man endeavoured to give to his life is revealed especially in his spiritual testament, entitled "My last wishes," which has an original, touching simplicity. Tradition has it that for several years after his death the parish priests of Boucherville read the text of his testament from the pulpit on New Year's day. The parishioners recognized themselves in it. "I do not leave you great wealth," he acknowledged, "but the little that I do leave you has been very properly acquired. I have done what I could to leave you more, I have neglected nothing to that end, having indulged in no foolish expense, as you all know; but it did not please God, who is the master, to give me more. I leave you for friends many persons of rank and distinction and many honest people. I leave you no enemies for my part, as far as I know. I have done what I could to live without reproach; try to do the same." After this preamble, he had for his wife and children, whom he named in order of birth, an appropriate sentence, which was in accordance with the temperament of each one and which shows how united the family was. His principal piece of writing remains from certain points of view the propaganda work of 1663, of which we pointed out earlier the influence and the significance, but the serene philosophy revealed in the text expressing his last wishes and the text giving the reasons that prompted him to settle at Boucherville make us understand better his moral worth and the secret of his influence on his contemporaries. Father Léon Pouliot summed up in one sentence Pierre Boucher's exceptional life when he wrote that he was "the most estimable and the greatest Canadian of his time; a distinction that none can take from him."
He died in his manor-house at Boucherville on 19 April 1717, aged about 95 years old, 82 of which were spent in New France. He lived for 20 years under Louis XIII, 73 under Louis XIV, and 2 under Louis XV. He could have known the first 13 governors and the first 7 intendants of his adopted country.
AJTR, Registres des audiences de la cour de juridiction civile et criminelle. AN, Col., E, dossier Pierre Boucher. Archives du séminaire de Trois-Rivières, Collection Montarville Boucher de La Bruère. BN, MS, NAF 23607. [Pierre Boucher], Histoire véritable et naturelle des mœurs et productions du pays de la Nouvelle-France, vulgairement dite le Canada (Paris, 1664; Société historique de Boucherville Pub., I, 1964). JR (Thwaites). JJ (Laverdière et Casgrain). "Ordonnances inédites de Pierre Boucher, gouverneur des Trois-Rivières," BRH, XXXII (1926), 187–92.
Bonnault, "Le Canada militaire," 517–18. A.-A. Cambray, Robert Giffard, premier seigneur de Beauport et les origines de la Nouvelle-France (Cap-de-la-Madeleine, 1932). Archange Godbout, Les pionniers de la région trifluvienne (Trois-Rivières, 1934). [Louis Lalande], Une vieille seigneurie, Boucherville (Montréal, 1890). Séraphin Marion, Un pionnier canadien, Pierre Boucher (Québec, 1927). Mme Pierre Montagne, Tourouvre et les Juchereau (Société canadienne de généalogie pub., XIII, Québec, 1965). Kathryn de Monbreun Whitefort, A genealogy and history of Jacques Timothé Boucher, sieur de Monbreun (Ann Arbor, 1939). Montarville Boucher de La Bruère, "Pierre Boucher," Cahiers des Dix, II (1937), 237–60; "Pierre Boucher, colonisateur," Cahiers des Dix, III (1938), 165–90.
Bibliography for the revised version:
Arch. départementales, Orne (Alençon, France), "État civil," Mortagne-au-Perche, paroisse Notre-Dame, 1er août 1622: archives.orne.fr (consulted 9 Sept. 2022). Bibliothèque et Arch. Nationales du Québec, Centre d'arch. de la Mauricie et du Centre-du-Québec (Trois-Rivières, Québec), CN401-S132, 17 janv. 1649; Centre d'arch. de Montréal, CE601-S22, 21 avril 1717; Centre d'arch. de Québec, CE301-S1, 9 juill. 1652. C.-V. Campeau, "Navires venus en Nouvelle-France, gens de mer et passagers, des origines à 1699": naviresnouvellefrance.net (consulted 9 Sept. 2022).
© 1969–2023 University of Toronto/Université Laval
Cite This Article
Raymond Douville, "BOUCHER, PIERRE," in Dictionary of Canadian Biography, vol. 2, University of Toronto/Université Laval, 2003–, accessed September 30, 2023, http://www.biographi.ca/en/bio/boucher_pierre_2E.html.
The citation above shows the format for footnotes and endnotes according to the Chicago manual of style (16th edition). Information to be used in other citation formats:
| | |
| --- | --- |
| Permalink: | http://www.biographi.ca/en/bio/boucher_pierre_2E.html |
| Author of Article: | Raymond Douville |
| Title of Article: | BOUCHER, PIERRE |
| Publication Name: | Dictionary of Canadian Biography, vol. 2 |
| Publisher: | University of Toronto/Université Laval |
| Year of publication: | 1969 |
| Year of revision: | 2023 |
| Access Date: | September 30, 2023 |