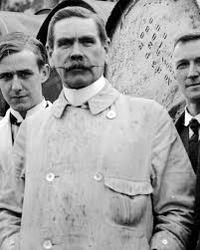 Source: Link
GOODERHAM, Sir ALBERT EDWARD, businessman and philanthropist; b. 2 June 1861 in Toronto, second son of George Gooderham* and Harriet Dean; m. there 25 Oct. 1883 Mary (Marietta) Reford Duncanson (d. 18 March 1955), and they had three sons, one of whom predeceased him, and three daughters; d. there 25 April 1935.
Albert Edward Gooderham was born into great wealth. His father managed the Gooderham and Worts distillery complex, founded by his paternal grandfather, William Gooderham*, with James Gooderham Worts*. The partners had invested their vast profits in a number of other enterprises, including the Bank of Toronto, the Canada Permanent Building and Savings Society, and the Confederation Life Association; Albert would be involved with all of them. But although "a financier by inheritance," a biography published a few years after his death commented, he was "a philanthropist by instinct." The attitude of an older generation of Gooderhams was summed up in 1872 by a disgruntled Thomas Nicholson Gibbs*, who, at Sir John A. Macdonald*'s request, was soliciting funds for the Canadian Pacific Railway: "Wealth is only of service so long as it can be made to minister to the comfort and ease of its possessor. Any other obligations than those of self & family are ignored." Albert Gooderham's generosity, however, extended well beyond his immediate circle. Over the course of his lifetime he would give away large sums of money and provide leadership in the arts and social causes such as health and education.
He was educated at the Model Grammar School and Upper Canada College in his native city, and in 1879, at the age of 18, he joined the family firm as a junior clerk. Just three years later his position changed significantly. After the deaths of William Gooderham in August 1881 and James Gooderham Worts ten months later, Albert's father, with the consent of Worts's executors and beneficiaries, incorporated the distillery business as Gooderham and Worts Limited. Albert, only 21, and his elder brother, William George, each received 10 shares, a large enough number to allow them to serve as directors. On his father's death in 1905, Albert became a substantial shareholder in the firm and its managing director. Seven years later he assumed the position of vice-president.
There is little evidence that he had the flair for business of either his grandfather or his father; rather, his was a supervisory role, while his brother held the presidency. Eventually, in 1923, at a time when Prohibition was gaining favour, he would oversee the sale of the distillery to Harold Clifford Hatch*. In addition to fulfilling his responsibilities at Gooderham and Worts, he represented the family's interests in other companies: as a director of the Bank of Toronto, vice-president of the Canada Permanent Mortgage Corporation, and president of the Dominion of Canada Guarantee and Accident Insurance Company.
Gooderham had a lifelong interest in the military. In 1885, at the outbreak of the North-West rebellion [see Louis Riel*], he joined the 10th Battalion of Infantry (Royal Grenadiers) as a second lieutenant. He offered to serve in the expeditionary force being put together to fight the insurgency but was not called up, and his unit fought without him. Gooderham remained active in the regiment, however, and was promoted lieutenant in 1887, captain in 1896, major in 1902, and lieutenant-colonel and commanding officer in 1907. Later he became acting colonel and provided money to support the unit. In 1912, on its 50th anniversary, he hosted more than 1,700 officers and men at a celebratory dinner held at the Toronto armouries.
During World War I, when the Imperial Munitions Board [see Sir Joseph Wesley Flavelle] needed a facility to produce acetone for the manufacture of cordite, he made the Gooderham and Worts distillery available, asking only that the authorities pay the taxes and insurance. More than half of Britain's supply of acetone came from Toronto; he also opened two plants in Indiana.
Gooderham was an important benefactor of the University of Toronto, on whose board of governors he served as an active and influential member. In 1914, when he was also chair of the Ontario division of the Canadian Red Cross, he approached the fledgling laboratory that had recently been established at the university by John Gerald FitzGerald of the department of hygiene to research and produce serums; he wanted to know whether it could make the tetanus antitoxin urgently needed by the Canadian Expeditionary Force to prevent infection in wounded soldiers. When the laboratory was able to do so in controlled conditions and at a lower price than the American sources the Red Cross had initially contacted, he was impressed. In 1915 Gooderham purchased a 58-acre farm on Dufferin Street north of Toronto and financed the construction and equipping of a building for the laboratory, all of which he donated to the university. Two years later, on 25 October, he participated in the official opening of the Connaught Antitoxin Laboratories and University Farm, named after the Duke of Connaught [Arthur*], a recent governor general of Canada. Gooderham would serve as chair of the university's Connaught committee for many years.
The laboratories had earlier taken over from the Provincial Board of Health the production of an anti-rabies vaccine developed in France by Louis Pasteur. They also prepared anti-meningitis serum and smallpox vaccine. After the discovery of insulin in 1922, Connaught began to manufacture it commercially. When controversy arose over who deserved credit for the breakthrough, Gooderham, then chair of the University of Toronto's insulin committee, tried to mediate. In September he wrote to Professor John James Rickard Macleod, who had overseen the research, Frederick Grant Banting*, and Charles Herbert Best*, asking each to prepare a typewritten statement of his understanding of the discovery. He hoped to compare the accounts, meet with the three men, and reach an agreement on the facts. Macleod supplied a detailed commentary, in which he explained how he had provided advice and constructive criticism throughout the work and stressed the contribution made by James Bertram Collip* in purifying the extract for clinical use. Banting claimed that he alone had conceived of the idea that had led to the discovery and that Macleod had not been helpful, accusing him of "a lack of trust and co-operation." Best wrote the shortest and perhaps most objective report; he acknowledged Macleod's advice and Collip's involvement. The accounts were virtually impossible to reconcile, and no meeting was ever held. The statements would not be published until after all four principals had died.
Gooderham's support of medical advances extended beyond the Connaught Laboratories. In 1912, following a concept pioneered in North America by Arthur-Joseph Richer*, he and his wife established a "preventorium" in Toronto for children thought to be at risk for tuberculosis. During World War I he and Mary, who was a vice-president of the Imperial Order Daughters of the Empire, equipped an IODE hospital for military officers in London, England.
An Anglican, Gooderham was director of musical activities at St James' Cathedral. More important, he was a crucial figure in the creation and early nurturing of two notable institutions, the Toronto Conservatory of Music and the Toronto Symphony Orchestra. In 1911, to save talented young musicians the expense of overseas training, he founded the Columbian Conservatory of Music (Toronto), which changed its name the following year to the Canadian Academy of Music; in 1918 it merged with the Toronto College of Music, established in 1888 by Frederick Herbert Torrington*. Gooderham served as president until 1924. That year it amalgamated with the Toronto Conservatory of Music under Augustus Stephen Vogt*, and Gooderham became chairman of the board of governors for the expanded school. He was also president of the Toronto Symphony Orchestra from its launch in 1923 as the New Symphony Orchestra Association until 1931. He personally provided much-needed funds and in 1926 introduced corporate sponsorships. When a photograph was taken of the orchestra at its first radio broadcast in 1929, Gooderham was seated at the front immediately to the right of the conductor. After he retired as president, the orchestra's board, at the urging of the new president, Charles Vincent Massey*, conferred on Gooderham the title of honorary president.
Albert Gooderham was involved with many other organizations, including the British Empire League, the Canadian Forestry Association, the St George's Society, the York Pioneers, the Rosedale Association, the Royal Life Saving Society, St Andrew's College, and Havergal Ladies' College. "Tall and well-built, with an erect military carriage," he enjoyed yachting, rifle shooting, and golf. In 1933, on the occasion of his 50th wedding anniversary, a large celebration was held at the Gooderhams' home, Deancroft, in the Rosedale district of the city. The Mail and Empire reported that "artistic, literary, social and philanthropic Toronto called to present best wishes" to their benefactor.
The New Year's honours list of 1935 announced that Gooderham was to be made a kcmg by King George V for his humanitarian endeavours. But he did not live long enough to be formally invested; he died of a streptococcal infection on 25 April. The local newspapers gave extensive coverage to his life and his funeral, attended by Torontonians from all walks of life. Later that year, on 8 December, Sir Ernest Alexander Campbell MacMillan* led the Toronto Symphony Orchestra and the Toronto Conservatory of Music choir in a performance of Brahms's German requiem in memory of the man who had done so much to support both organizations. Sir Albert Gooderham had contributed to the arts and to social causes in a way that few Canadians before him had done, and he would be a role model for future generations.
Sir Albert Edward Gooderham's letter to J. J. R. Macleod, Frederick Banting, and Charles Best and the responses of the latter two appear in "Banting's, Best's, and Collip's accounts of the discovery of insulin," intro. Michael Bliss, Bull. of the Hist. of Medicine (Baltimore, Md), 56 (1982): 554–68. Macleod's statement was published as "History of the researches leading to the discovery of insulin," intro. L. G. Stevenson, Bull. of the Hist. of Medicine, 52 (1978): 295–312. Correspondence of the Gooderham and Worts firm (1864–79) is part of Lanman & Kemp (New York) papers (S 24) held in the Special Coll. of the TRL.
AO, RG 80-5-0-122, no.15134; RG 80-8-0-1552, no.3145. TRL, Special Coll., Biog. scrapbooks, 1: 383, 386–93 (mfm.). Globe, 26, 29 April 1935. Mail and Empire, 26 Oct. 1933, 26 April 1935. C. M. Blackstock, All the journey through (Toronto, 1997). Michael Bliss, The discovery of insulin (Toronto, 1982). Canadian men and women of the time (Morgan; 1912). R. D. Defries, The first forty years, 1914–1955: Connaught Medical Research Laboratories, University of Toronto (Toronto, 1968). Encyclopedia of music in Canada (Kallmann et al.), 537. C. I. Kyer, "Gooderham & Worts: a case study in business organization in nineteenth-century Ontario," in Essays in the history of Canadian law, ed. D. H. Flaherty et al. (10v. to date, [Toronto], 1981– ), 8 (In honour of R. C. B. Risk, ed. G. B. Baker and Jim Phillips, 1999), 335–57. Louis Rosenfeld, "Insulin: discovery and controversy," Clinical Chemistry (Washington), 48 (2002): 2270–88. Standard dict. of Canadian biog. (Roberts and Tunnell), vol.2. R. S. Warren, Begins with the oboe: a history of the Toronto Symphony Orchestra (Toronto, 2002). Who's who in Canada, 1934/35.
© 2015–2023 University of Toronto/Université Laval
Cite This Article
C. Ian Kyer, "GOODERHAM, Sir ALBERT EDWARD," in Dictionary of Canadian Biography, vol. 16, University of Toronto/Université Laval, 2003–, accessed December 9, 2023, http://www.biographi.ca/en/bio/gooderham_albert_edward_16E.html.
The citation above shows the format for footnotes and endnotes according to the Chicago manual of style (16th edition). Information to be used in other citation formats:
| | |
| --- | --- |
| Permalink: | http://www.biographi.ca/en/bio/gooderham_albert_edward_16E.html |
| Author of Article: | C. Ian Kyer |
| Title of Article: | GOODERHAM, Sir ALBERT EDWARD |
| Publication Name: | Dictionary of Canadian Biography, vol. 16 |
| Publisher: | University of Toronto/Université Laval |
| Year of publication: | 2015 |
| Year of revision: | 2015 |
| Access Date: | December 9, 2023 |